Visitors are bringing an infusion of cash but they're underscoring concerns about overtaxed roads, beaches and infrastructure, environmental degradation and cultural exploitation.
May 11, 2021
HANA, Maui — Tourism — Hawaii's most lucrative, and at times overwhelming, leading industry — was outlawed in Hana for several months last year as the public health threat posed by the coronavirus pandemic loomed large over the 800 residents of this rural hamlet on Maui's far eastern edge, where medical resources are scarce.
National Guard soldiers blocked virtually all nonresidents from entering the area from mid-March to July, making Hana, one of the most isolated communities in the state, nearly locals-only.
Gone were the swarms of sunscreen-slicked bodies. And residents, feeling as though they'd entered a time portal to the 1950s, saw signs of marine life, and each other, enjoying a badly needed break.
"My kids got to experience my childhood," said Hana native and preschool teacher Anjoleen Hoopai-Waikoloa. "When I grew up, you could play in the road. My kids never played in the road until COVID-19 hit."
Beyond the absence of traffic, residents reported larger, more abundant opihi clinging to rocky shorelines and fish swimming in waters so shallow that their tails breached the surface.
The pandemic even propelled some people to return to a cashless society, with fishermen trading their extra catch for pig meat or vegetables.
Now, after more than a year of quiet, Hana is once again run amok with visitors, many of them newly vaccinated and eager to make up for postponed or canceled vacations.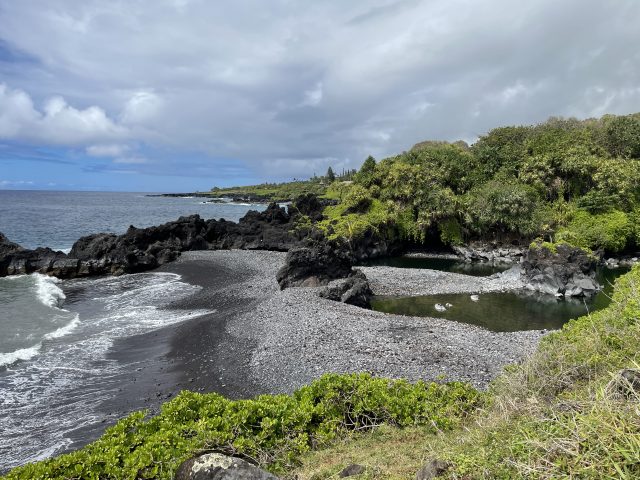 Workers at the luxury Hana-Maui Resort, Hana's only hotel and biggest employer, say more rooms are booked than usual for the shoulder season between spring break and summer vacation.
And while they're bringing with them an economic boon that had been sorely missed by some workers and small business owners, tourists are once again stoking resident concerns about overcrowded roads and beaches, buckling infrastructure, environmental degradation, cultural exploitation and visitor safety.
The scenario is playing out nearly everywhere in Hawaii. Rental car rates are sky high, if there are any cars available to rent at all. Some visitors are driving around in U-Haul trucks as a last resort.
In tiny Hana, the explosive return of visitors after a season of none is especially bewildering.
"It's like we're back to normal — and I never liked normal because normal was already too much, normal was already damaging our natural resources," Hoopai-Waikoloa said.
"It was just really beautiful that all of our kids got to experience a taste of what this place used to be," she said. "I want to go back."
'Monkey See, Monkey Do': Residents Lament Lax Enforcement
On a recent afternoon, a visitor parked his rented Jeep in front of a No Parking sign and let some passengers out to use a public restroom.
The driver stayed behind with the windows down, and a Hana resident seized the opportunity to deliver him a distinctly unwelcoming message.
"Brah, what you doing?" the local man said, gesturing to the No Parking sign. "When you come to Hana, all I ask is you follow the rules."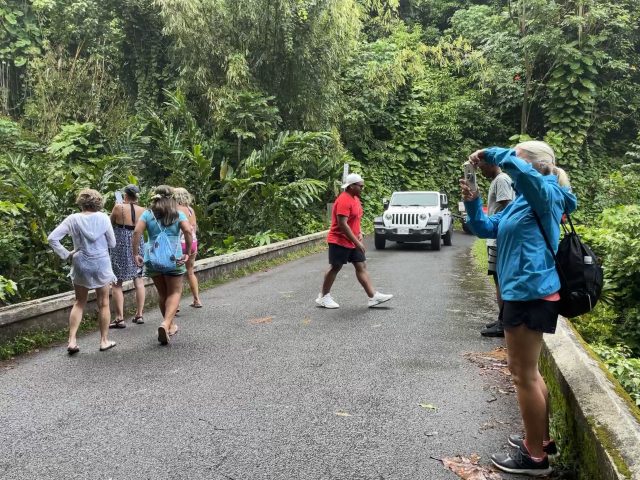 "They had to go to the bathroom," the visitor said. "What's the problem?"
"Monkey see, monkey do!" said the resident, plainly irritated. "The problem is all day long, every day, people like you don't follow the rules."
"But I never come here," the man in the driver's seat said. "I never come to Hana, I'm only here today."
Clashes over parking are commonplace in Hana, according to Hoopai-Waikoloa. At the preschool where she teaches, the problem of visitors parking their cars and going off to the beach got so bad in recent months that the school now shuts the metal gate to the lot during school hours.
"It's actually getting worse," said Hoopai-Waikoloa. She'd like to see Maui County work to cap the number of rental cars permitted on the island's roads. "These people who are coming, they don't care because they drove here to see what they want to see and all they really care about is their itinerary."
But would Hoopai-Waikoloa like to see the town add more parking?
"No," she said. "If you build it, they will come."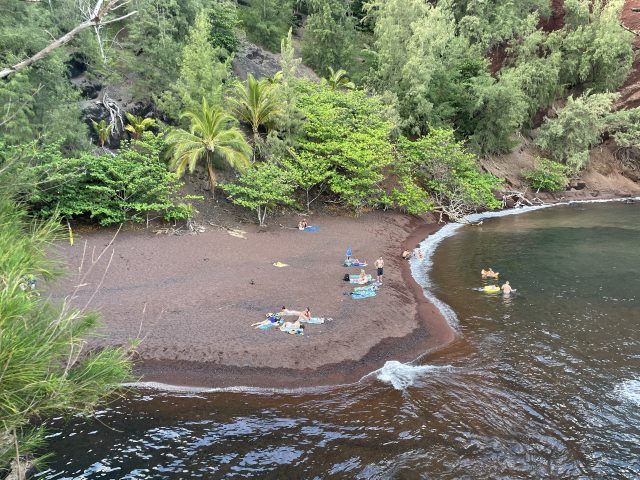 Among elected officials, there appears to be a growing recognition of the problem posed by overtourism.
Last year, the Maui County Council slashed the county's annual contribution to the Maui Visitors Bureau by more than half, reasoning that Maui doesn't need much help to promote tourism.
The council also published the Malama Maui County Pledge, asking tourists for the first time to promise to respect the islands' people, culture and environment.
"There has been an effort," said Councilman Shane Sinenci, who represents Hana. "But I think we can still do more."
One strategy Sinenci said he's exploring is to find a way to add more pull-off areas, or a passing lane, along Hana Highway. These features, he said, could help ease the flow of traffic for residents, who are trying to get somewhere, and visitors, who may be stopping frequently at waterfalls or fruit stands.
"We want to be good hosts," Sinenci said. "But we also want to make sure that we've got enough affordable housing and not just catering to tourism."
"We do understand that tourism is the economic driver," he said. "But we don't want to be run over by it."
'Super Dangerous'
New crowd control measures at Hana's Waianapanapa State Park are already getting good results.
Launched in March, an advance-reservation system and fees for out-of-state residents who wish to park at or enter the park are helping to manage the number of visitors allowed at the park at any given time while making it easier for residents to access the park on a regular basis.
It's the latest state effort to experiment with ways to control the overflow and pay for repairing the damage at overwhelmed visitor destinations.
Hana residents say more solutions like this are urgently needed.
"They think they're visiting a place with a lot of waterfalls and beaches, but they don't realize they are intimately in someone else's backyard." — Rick Rutiz
Some locals are advocating for better enforcement of parking and trespassing laws, while others want to find more effective ways to educate visitors about not only Hana's spectacular sights, but its unique history, culture — and hazards.
Led by guide books and social media, visitors commonly park illegally or trespass on private land to reach natural swimming pools and attractions — sometimes under dangerous conditions.
"People come here because they want an adventure," said Hauʻoli Kahaleuahi, 26, who was born and raised in Hana. "They want to explore freely, even if that means ignoring a sign that says 'no trespassing' or 'private property.' They might not realize that a place is super dangerous."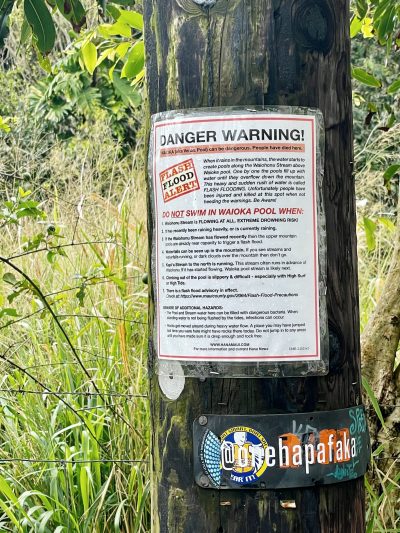 In February, a 26-year-old California woman died after a flash flood swept her out to sea from Waioka Pond, a popular tourist destination known as Venus Pool, which can only be accessed by trespassing.
Some residents want visitors to pay for their rescue if they get into trouble after trespassing or failing to heed a warning sign.
"We have one ambulance in this town," said Heidi Lea, president of the Hana Business Council. "Search and rescue has to divvy up if they have to go to more than one situation. What if a kupuna has a heart attack at the same time that a visitor is getting swept out into the ocean because they don't know that this is a flash flood corridor and they're not keeping an eye on the water?"
Lea is the steward of HanaMaui.com, an online portal for tourist information, a business directory and an events calendar with safety information for travelers who plan to embark on the mind-bending drive to Hana.
In addition to a code of conduct for motorists traveling on the Hana Highway, which is famously narrow with no lack of one-lane bridges or hairpin turns, the website directs visitors to sign up for emergency alerts about severe weather or unexpected road closures on their smartphone or tablet for the duration of their stay.
Residents And Visitors Could Reap Mutual Benefit
Part of the problem, according to Hana resident Rick Rutiz, is that visitors lack a basic understanding of Hawaiian cultural customs. And in Hana, where most residents are part-Hawaiian, this lack of recognition from some visitors breeds hard feelings.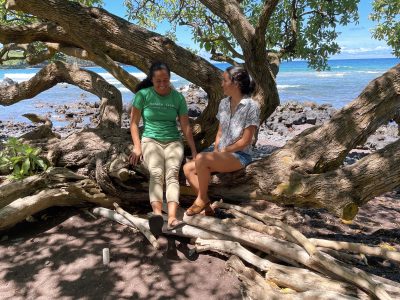 "They don't get that they are visiting a culture of people — not just a waterfall," Rutiz said. "How many of them recognize that Hawaiian culture is still thriving here or that Hawaiian culture looks very different than a hula or a luau that's staged at a hotel."
Some residents aren't so sure Hana's fraught relationship with the tourism industry will ever come into balance.
"Honestly, I am a little skeptical that it can be any different after this turn-on-the-faucet event," said Lipoa Kahaleuahi, executive director of the nonprofit vocational training program for youth, Ma Ka Hana Ka Ike.
"But even tourists would enjoy Hana so much more if they could come to Hana and have that special experience rather than show up to a waterfall with 50 other people and then try to snap their picture in a way that looks like no one else is there," she said. "What if you showed up and there were only five or 10 people there?"
About the Author