Hāna Festivals of Aloha Week
Festivals of Aloha Buttons are available for purchase now!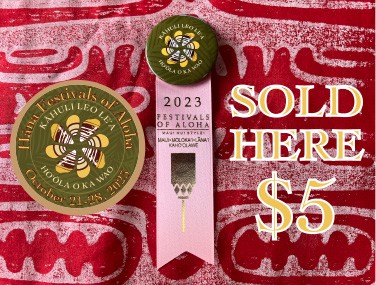 Get them at the following locations:
Hāna Farmers Market on Fridays 
@ the Hāna Business Council Booth 
@ the Hāna Arts Booth
Hasegawa Store
Hāna-Maui Hotel
Hāna Gas Station
Hāna Ranch Store
Hāna Farms
Ua Kea Legacy
Register now ~ October 21 to 28, 2023 Events!**
SCHEDULE OF EVENTS
Saturday, October 21, 2023 – Hana Ballpark
Hāna Parade and Ho'olaule'a ~ 11am to Closing
Opening Parade with the Hāna Royal Court, Floats, Pau Riders, Grand Marshall, Marching Band, Zenshin Daiko (Taiko), followed by a magic show with Brenton Keith.
**CONTACT: Bill Sides (808) 281-8073 / wrsides@hotmail.com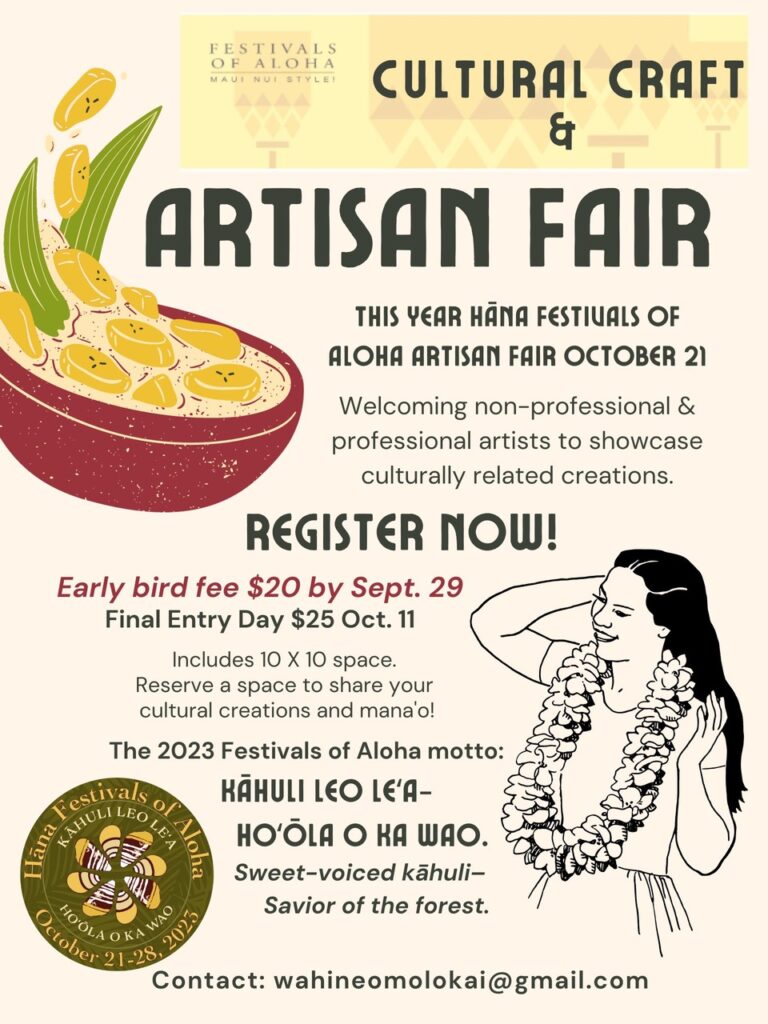 Artisan Craft Fair ~ 10am to 3 pm 
**CONTACT: Uʻi Kahue / wahineomolokai@gmail.com
Sports Night at the Park ~ 5pm to 9pm
Tennis, volleyball, Corn Hole, and other games
Sunday, October 22, 2023 – Hana Bay
Keiki/Wahine Shoreline Fishing Tournament
 ~
7:00am to 12:00pm 
**CONTACT: Doria Lind (808) 264-6117 / dorialind@yahoo.com
Ohana Beach Day ~ Noon to 5pm
Ohana Play Day Games at Hāna Bay
Monday, October 23, 2023 – Hana Ballpark
Traditional Coconut Weaving Class ~ 1:30 to 3:30 pm
at Hāna Tropicals Oasis
Sports Night ~ 5 to 9pm

at Hāna Ballpark
Tuesday, October 24, 2023
Traditional Lei Making Class ~ 
3pm
at Hāna-Maui Resort
Karaoke Night ~ 5 to 9pm at
Hana Ballpark
Wednesday, October 25, 2023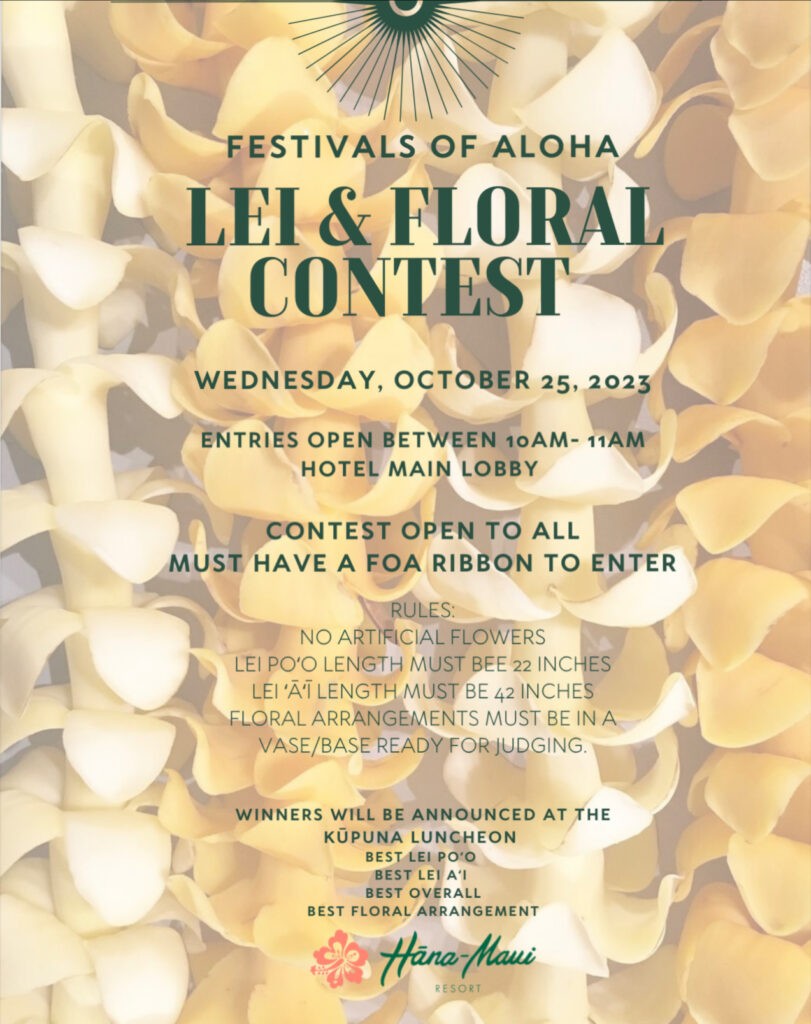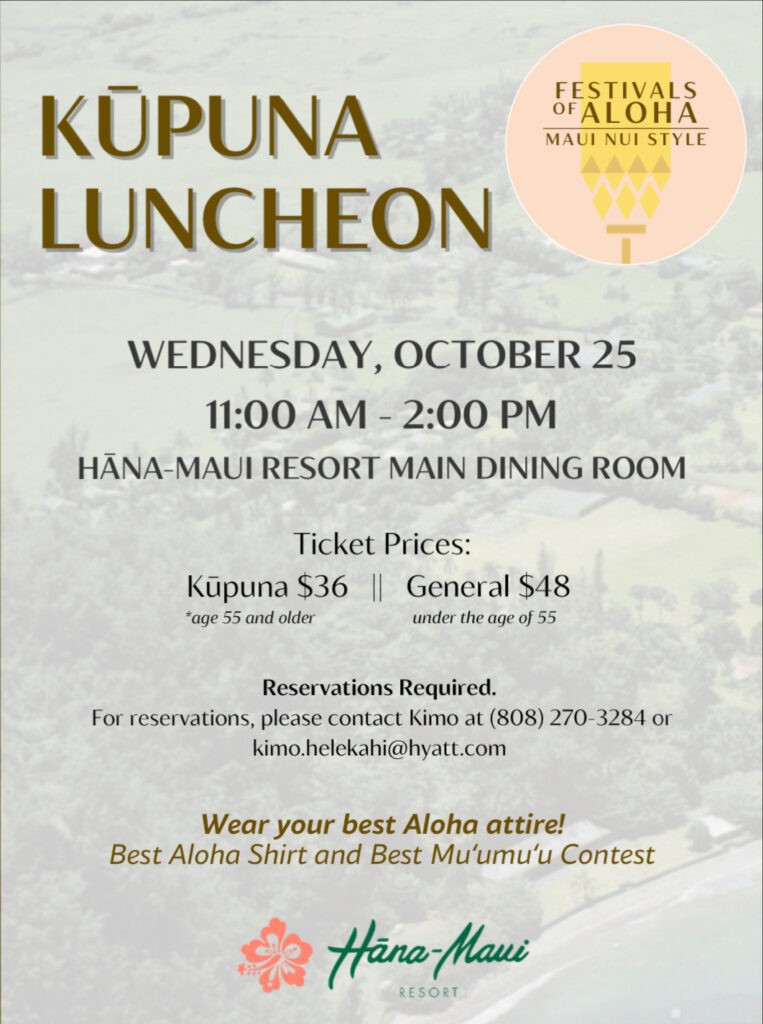 Floral & Lei Contest ~
10am to 2pm
Winners to be announced at Kupuna Luncheon
Kupuna Luncheon ~ 11:00am to 2:00pm at HānaMaui Resort
Thursday, October 26, 2023 – Hana Bay
            Hāna Arts' Annual Talent Show:
Hāna Bay, Registration – 4:00 pm, Program – 5:00 pm 
            Six categories with more than $2,000.00 in prize money.  
            **CONTACT: Hāna Arts (808) 248-5769. 
Friday, October 27, 2023 – Hana Bay
            Ulu, Maiʻa, Pohole & Poke Contests ~ 5 to 6pm
at the Hāna Farmers Market
Pō Hawaii & Aloha Attire Contests ~ 6 to 10pm
Saturday, October 28, 2023
Cross Country Golf ~ 2 to 4pm
Sponsored by Hōlani Hāna
**CONTACT: Francis Sinenci / fpsinenci@gmail.com
Ho'ike Night ~ 5 to 10pm
 at Hana Bay
Purchase Tickets at Hasegawa Store
$20 in Advance / $40 at the Event
Reflections on the 2023 Levitt AMP Hāna Concert Series!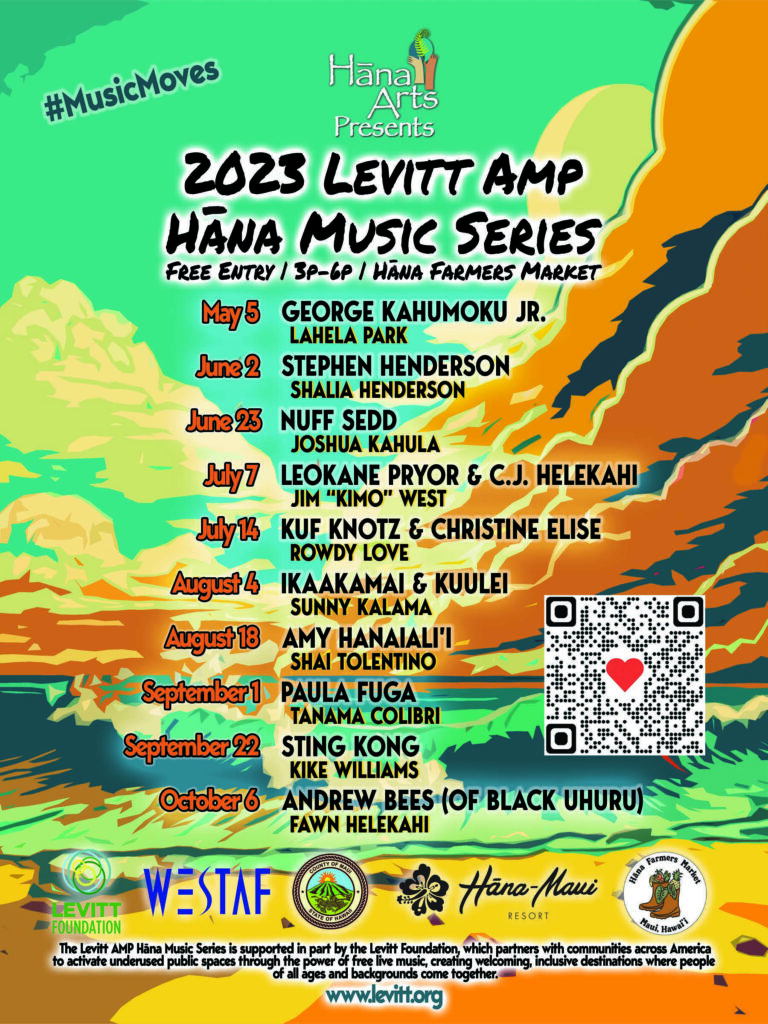 As the final music performance wraps up in October you can enjoy listening to the PSAs that played on KOKO-LP for the series. Announced in Hawaiian by Kea Gulino along with Scott Crawford, Stephen Henderson, and Heidi Lea in English. 
We look forward to next years 2024 lineup!! 
May 5, 2023 George Kahumoku Jr with Lahele Park (Read by Scott Crawford)
June 2, 2023 Stephen Henderson with Pohai (Read by Stephen Henderson)
July 7, 2023 Leokane Pryor & CJ Heleikahi with Jim "Kimo" West (Read by Kea Gulino <Hawaiian> and Heidi Lea)
July 14, 2023 Kuf Knotz & Christine Elise with Rowdy Love (Read by Kea Gulino <Hawaiian> and Heidi Lea)
August 4, 2023 Ikaakamai & Kuulei with Sunny Kalama (Read by Kea Gulino <Hawaiian> and Heidi Lea)
September 1, 2023 MAUI FIRE DISASTER RELIEF FUNDRAISER Paula Fuga with Tanama Colibri (Read by Kea Gulino <Hawaiian> and Heidi Lea; Short version)
September 22, 2023 Sting Kong (fundraiser Venmo link for band who lost homes in fires) (Read by Kea Gulino <Hawaiian> and Heidi Lea)
October 6, 2023 Andrew Bees with Fawn Helekahi (Read by Kea Gulino <Hawaiian> and Heidi Lea)