HBC MISSION STATEMENT
Hāna Business Council exists to support business endeavors, and to create business and employment opportunities within the special culture and traditions of aloha, for the health and welfare of our East Maui area.
The Hana Business Council was established in 1997 to support business endeavors and to create business and employment opportunities within the special culture and traditions of our East Maui area. In November 2021 the HBC converted its organizational structure to become a 501(c)(3) non-profit.
We enhance business opportunities through the engagement in advertising, education and public relations. We have over the years sponsored entrepreneurial workshops, hosted business networking events, run educational seminars, worked to improve East Maui utilities and broadband access, established a scholarship fund and in other ways promoted a healthy small business community in Hana.
The HBC exists with your participation. Mahalo for your kokua!
HBC Annual Memberships are available for residents and businesses that operate within the 96713 zip code. Let's work together towards supporting a new vision for our economic development! 
To support the ongoing success and vision for HanaMaui.com please consider contributing!

HanaMaui.com operates as a trade name managed by the Hana Business Council, a federally recognized 501(c)(3) non-profit organization. Members receive a Premium Hāna Directory listing.
Follow us on the HBC Facebook Page
---
The Hana Business Council sponsors the HanaMaui.com website and the Hana Business Directory as a service to the residents and visitors of Hana. 
Membership in the Hana Business Council is $50 annually. Along with other benefits, members are able to vote at our general membership meetings to help set the priorities for the Council.
Members of the Hana Business Council are eligible for a Premium listing in the Hana Business Directory, along with being featured in the East Maui Activity Resource Guide.
If you would like to join for one year, please send a check for $50 payable to Hana Business Council ~ PO Box 856, Hāna, HI 96713; or pay online via PayPal by clicking Pay Now. 
 Hāna Business Council is a nonprofit tax-exempt IRS 501(c)(3) organization. Federal Tax ID #99-0313784.  
Your donation is U.S. tax deductible to the extent allowed by law.
Pay for your new or renewing membership by using the following links:
If you would like to have your dues automatically renewed each year—less hassle for you and for us!—please click the Subscribe button for a recurring payment.
Mahalo!
Come to the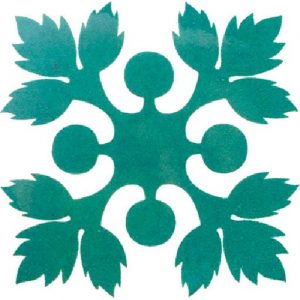 HBC Annual Gathering
& Business Netwo
rking Event
Thursday, JULY 21
at Hana Farms Pavilion
from 5:30 ~ 9:30pm
Speaker Presentation at 6:30 via Zoom
Members $25 / Guests $35
Your contribution is tax deductible!
Food and non-alcoholic beverages catered by Chow Wagon ~ BYOB!
Talk Story on Managed Tourism Featuring:
Paulo Faleafine, Hoʻomāhua Initiative
Nichol Hutaff, Valley Isle Excursions
Maui Visitors Bureau Team
Updates from our Locally Elected Representatives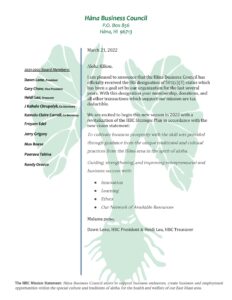 Renew your HBC membership and join our first special HBC meeting as an official nonprofit on Tuesday, March 29 from 4:30 to 6pm Aloha HBC 'Ohana! We received our official federal IRS confirmation letter informing us of 501(c)(3) designation for the
Read More »