Hāna Business Council

Broadband Committee
 Spectrum Provides Internet Credit 
to East Maui Residents!
Aloha Mai Kakou:
I am sending out this email to try and reach everyone in Hana that are Spectrum internet customers. If you are receiving internet service from Spectrum you should receive a letter like the one attached notifying you of the 4 months credit you should see on your March billing and that you will receive credit for each month after that until your service is improved. The credit will be in the amount of your monthly internet basic service. It would not include additional charges such as downloaded movies etc. If you have not received a letter within a week you should contact:
William C. Wesselman
Email – William.Wesselman@charter.com
Ph. – (303)489-5436
Other News:
We were initially told by Spectrum Hawaii that the new microwave dish would be completed by the end of the year. Mr. Wesselman said that they are now pushing to have it completed in June or July and the download speed should average 100 Mbps in the evening.
Besides asking credit for poor service, we also wanted to be given automatic credit for service outages. When the whole town loses service, we ask that credit should be given to every Hana customer without having to request it. Mr. Wesselman informed me that it is under consideration, and I think we will see some form of automatic credit. We will keep you informed.
We will still be going to the FCC. Not with a complaint about Spectrum but just to have it on record such that they would be aware that this could be happening in other rural communities that are not as diligent as Hana has been.
The Hana Broadband Committee is a sub-committee of the Hana Business Council, and I would like to thank the Business Council for their help and all of those in the community that have participated. You really can move a national company to do what is right if you have a community like Hana that can come together and demand that they be treated fairly.
Bill Sides
HANA BROADBAND COMMITTEE
A Sub-Committee of
THE HANA BUSINESS COUNCIL
P.O. Box 432
Hana, HI 96713
Ph. (808)248-7758
Cell (808)281-8073
wrsides@Hotmail.com
Broadband Related Articles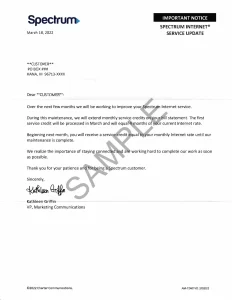 Aloha Mai Kakou: If you are receiving internet service from Spectrum you should receive a letter like the one attached notifying you of the 4 months credit you should see on your March billing and that you will receive credit
Read More »
HAWAIIAN TELCOM BROADBAND 
 After discussing the confusion experienced by East Maui customers regarding their new broadband service, Hawaiian Telcom has assigned their customer relations manager (Dana Wong) to work directly with interested parties to resolve their problems when inquiring about eligibility for the new limited broadband service.  Upon request she has submitted the notice below for me to distribute.  I think this will make it easier for folks inquiring about new service.  Please feel free to call me if you have questions or any further issues.
Bill Sides, Hana Broadband Committee
(808) 248-7758
Hawaiian Telcom is now offering broadband service to certain addresses in East Maui. Because the situation in our community is unique and requires special handling, Dana Wong from the Customer Relations office will be helping to facilitate the process.
Please follow these simple steps:
Call 808-643-3377 (toll free), Text 808-859-6390 (Honolulu cell, charges may apply) or Email Customer.Relations@hawaiiantel.com to share your full name, your street address or Tax Map Key and the best contact number.
 By the next business day, you can expect to receive a response letting you know if your address is eligible for services or not.
If your address qualifies, Dana will help to coordinate issuance of your order and scheduling of your appointment.
Appointments are limited to Tuesdays and Wednesdays and are on a first-come, first-served basis.
If you contacted the Hawaiian Telcom customer service team in the past and were told your address was not eligible, please contact Dana Wong and have her double check your address. Our community addresses, which include non-traditional street addresses, were not uploaded into the customer service systems, so there is a chance that your address is eligible.
Noticing Poor Internet Connection from Spectrum?
Install on your Smart Phone: 
FCC Speed Test
The FCC makes available for free a smart-phone speed test application that reports the results directly to the FCC.  When Spectrum internet is performing badly, this is your opportunity to directly tell the FCC how bad the situation is getting.  The more people that run it from their smartphones, the more likely the FCC will see that there is a large group of people experiencing poor internet service from Spectrum.
Apple iPhone and iPad users
https://apps.apple.com/us/app/fcc-speed-test/id794322383
Android users
https://play.google.com/store/apps/details?id=com.samknows.fcc&hl=en&gl=US
NOTE: The FCC does not accept speed tests from PC web browsers because those are too unreliable. 
Only Smartphones or dedicated hardware devices like https://SamKnows.com are accepted for residential FCC speed test performance.