July 28, 2022
DAKOTA GROSSMAN
Staff Writer
dgrossman@mauinews.com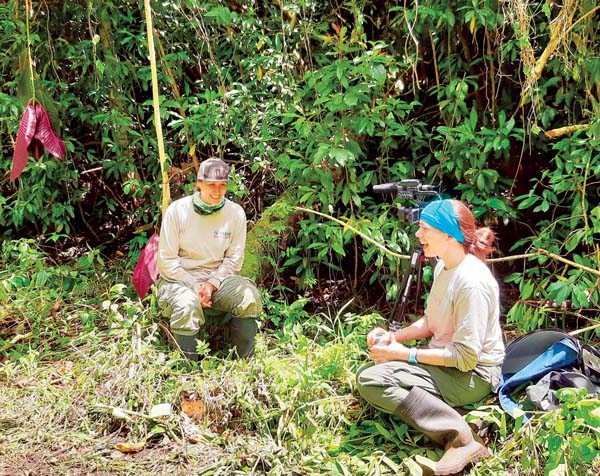 Conservation efforts by the Maui Invasive Species Committee are making worldwide television as its Hana miconia crew battles the invasive plant from the ground and air.
During an exclusive virtual screening on Tuesday afternoon, Maui took center stage in a sneak preview of BBC Studios' "The Green Planet" series, episode 5: "Human Worlds."
The 56-minute episode features beautiful landscapes, unique plant behaviors and different animals from around the world — including shots of East Maui's ecosystem — along with a powerful message of how humans play a vital role in the stability and/or demise of the natural world.
After spending years with boots on the ground, Hana miconia crew leader Aja Akuna said that it was exciting to see their work airing on PBS Hawaii — where it will publicly debut Aug. 6 — and makes her feel hopeful that "we can shine more light and bring more people into conservation and preservation."
"Being on a small island, we're all connected, so why not do something? We know what happens when nobody cares. We have to make sure that the kids understand that and have a place to go,"Akuna said after the episode while holding back tears. "I have kids and I want their kids to be able to raise their families in that same environment and not have to struggle and go out, but to have those same upbringings."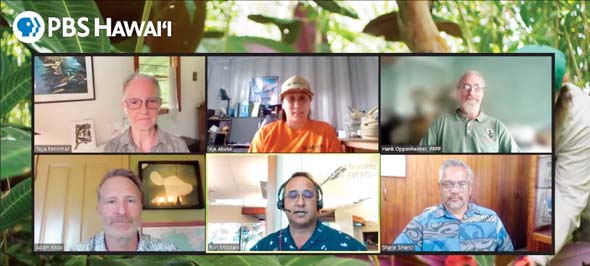 Teya Penniman, a member of MISC that is leading efforts to tackle the invasive miconia plant in East Maui, said Tuesday that miconia "is a huge threat" to other native plant species because it is fast-growing and the massive leaves can block much-needed sunlight to the forest.
They are also shallow rooted, which means that the soil can erode more easily, causing landslides and sediment runoff, Penniman said.
Listed by the state Department of Agriculture as one of the most invasive noxious weeds in the state, a single miconia plant can produce a million tiny seeds per year that can live in the soil for up to 20 years, she added.
Though many plant species are historically resilient, a recent assessment in Hawaii revealed that about 135 species are either extinct or presumed extinct, according to PBS Hawaii. A few have been rediscovered, though, while scientists also continue to find new species.
Nearly 60 plant species within the East Maui watershed are listed as threatened or endangered by the U.S. Fish and Wildlife Service. The 60,000 acres within the watershed provides "a critical habitat" for over 100 rare and endangered plant species, said Maui County Council Member Shane Sinenci, who holds the East Maui residency seat and was part of the panel discussion after the screening.
"Like they say in the episode, all plants are important and they are a part of ecosystems and plant communities and sustain us," said Hank Oppenheimer, Maui Nui coordinator for the Plant Extinction Prevention Program. "They are important, not just for that, but biologically, botanically, culturally as well as economically."
Though there is a "long list" of invasive plants overruling the natives, Oppenheimer said that miconia has been a priority to eradicate.
If it's left unchecked, Sinenci said that miconia can soak up water for itself and "easily deprive"the East Maui watershed of water, which provides millions of gallons for domestic and agricultural use for the island.
It's going to be crucial for Maui County's new Department of Agriculture to invest in resources and infrastructure that ensures healthy and strong sources of water, he said.
"Our watersheds, our waterbanks that our future generations will rely upon for their survival and with impending climate change projections and resulting droughts, it is critical to get rid of this invasive plant from our native forests," Sinenci said. "We just cannot deplete our water resources that are currently found in our streams and our aquifers."
Conservationists remain hopeful, though, as more projects and preservation methods to access, attack and subdue invasive species are on the rise, especially for hard-to-reach areas.
From community re-seeding projects in Africa to rebuilding a Brazilian rainforest tree by tree, the "Human Worlds" episode shares unique methods of reviving plant life, including how the Hana miconia crew attacks miconia from the air.
The miconia crew is one of MISC's largest and is made up of all East Maui residents.
In addition to chopping the stalks from the ground five days a week in steep terrain, the show captures MISC members flying in helicopters and shooting the invasive plant with small, precise doses of herbicide via paintball guns.
"Obviously we all want to minimize our use of chemicals, pesticides, herbicides, but for large-scale management for some invasive species, especially for ones in very difficult-to-reach areas, sometimes you have to resort to chemical methods," said Adam Knox, MISC operations manager. "We have to be really clever and persistent about how we do this work."
Maintaining biodiversity and supporting a healthy ecosystem will lead to a healthier and safer planet, Knox said, which is a message rooted in "The Green Planet."
"I feel lucky to work with some of the best people on the planet, those in the air as seen in the episode and those on the ground," he added. "I feel really lucky that we were able to share some of our unique experiences with the world and hopefully we're able to demonstrate that teamwork, in particular, can lead to extraordinary outcomes."
Joining an aerial operation was an experience to remember, said Sinenci, adding that the council was able to increase the annual budget to allow for more time in the air.
"I did see how specific concentrations of the invasive miconia were inaccessible to the ground crews, especially in the thick forests of Nahiku and along the steep cliffs of Hanawi Valley,"Sinenci said. "So the ballistics were, that I saw, the only way to target these."
Oppenheimer said that people can get involved by becoming a volunteer with any conservation project or doing smaller, but "really effective" tasks, like cleaning their shoes after a hike as to not spread seeds and educating themselves on invasives.
"We're all in this canoe together," he said.
The episode publicly debuts at 8 p.m. Aug. 6 on PBS Hawaii.
* Dakota Grossman can be reached at dgrossman@mauinews.com.