Announcement receives mixed reviews from residents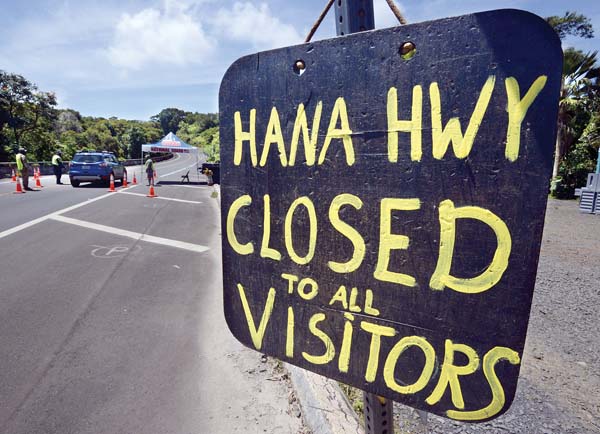 The road to Hana, known for its picturesque views, bridges and hairpin turns, is now a flashpoint with the state planning to reopen access to East Maui to the general public Wednesday.
Access to East Maui has been blocked to nonresidents since March over concerns about COVID-19 spread to the remote rural communities with limited health care facilities. Roadblocks were set up at Twin Falls in Haiku and at Ulupalakua Ranch.
"This is such a controversial subject," said Hana resident Neil Hasegawa, who owns Hasegawa General Store in Hana, a family business that dates back to 1910.
In the wake of news Thursday that the state will reinstate full access to Hana, there is a division over whether the remote town is ready to reopen the road that allows more people access amid the pandemic.
Maui County Mayor Michael Victorino said Friday that he, state Sen. J. Kalani English, a Hana resident, state Rep. Lynn DeCoite and other officials will discuss the topic during a Zoom meeting Sunday night. English's and DeCoite's districts encompass East Maui.
The state Department of Transportation announced Thursday that Hana Highway will reopen to the public beginning Wednesday. With the exception of local access, the highway has been closed since March 18 — with the department citing state highway construction projects as the reason for the closure.
When Gov. David Ige announced closing the road except to residents, first responders and delivery vehicles in March, he did not mention highway repairs. In fact, county and state lawmakers have talked about the necessity of keeping Hana closed to outsiders to protect from COVID-19.
There has been one reported case of COVID-19 in a Hana resident, who returned from a trip to Canada in March.
English and DeCoite in April asked Ige to deploy the Hawaii National Guard to rural areas of Maui County to help protect remote, rural towns with limited resources. The Guard began staffing checkpoints after Twin Falls on Hana Highway and at Ulupalakua Ranch on Piilani Highway to screen for residents only. About 7,000 driving placards were distributed to those who live in East Maui, according to English.
"Hana was the only place in all of Hawaii that was effectively isolated by blockades from National Guard," English said Friday. "This shows the consideration that our state and local government has for that area, understanding that we have such little resources. If people got sick, it would have overloaded our whole system there."
With the Transportation Department announcement, area residents are conflicted over whether East Maui should be reopened to outsiders, especially as COVID-19 cases are rising across some parts of the U.S.
"I know for a fact this COVID-19 is not over," Hana resident Lehua Cosma said Friday. "People are just rushing (reopening the road) and next thing you know the numbers are going to just rise more and more."
Noting that she wants the roadblocks to continue, Cosma said the community, which has only one medical clinic, one firetruck and one ambulance, could be crippled if new cases erupt.
Some Hana residents even are taking enforcement against outsiders into their own hands due to pandemic concerns, she added.
"We have to take care our own selves," Cosma said. "There's been some residents who kind of chase people away."
English said that the actions to close the road were the right ones and protected the east side of the island.
"And it really brought to life some of the conflicting views," he said.
English recalled one Hana farm owner who called frequently wanting to have the road reopened for business. Another Hana resident asked that the roadblock be moved slightly past his place so he could receive visitors.
Some Maui residents who wanted to access to Hana said it wasn't fair that Hana residents got to access the rest of the island but they couldn't go to East Maui. They miss visiting East Maui family, hunting, fishing and other activities, he said.
English had to juggle other issues, such as counterfeit resident passes that were created.
"It's been challenging," he said.
Still, English and Victorino emphasized that protecting the health of residents remains priority.
"I'm very concerned with the limited resources for Hana and our Hana community," Victorino said.
However, "it's important to understand that sooner or later, we have to open up Hana," he added later.
Hasegawa said that as a business owner, he realizes that his store needs the outside economy. With the flattened curve on Maui, he said the Hana roadblock is no longer needed.
"It's better safer than sorry is what I go by, but at some point — how far can you go to be safe?" he asked. "There's got be somewhere in between where you're taking the most precautions possible and still energizing the economy. I think it's a give and take."
Hasegawa General Store shut down for a month to only phone orders and curbside deliveries. Now, six people are allowed in the store at one time for social distancing, masks are mandatory and sanitation protocols are in place throughout the building.
The owner noted that the uptick in cases on Oahu are "kind of scary."
"I hope nothing like that comes to Hana," Hasegawa said.
* Kehaulani Cerizo can be reached at kcerizo@mauinews.com.