She will be among the performers at Sunday's Ki Ho'alu Festival at the MACC
Jon Woodhouse for the Maui News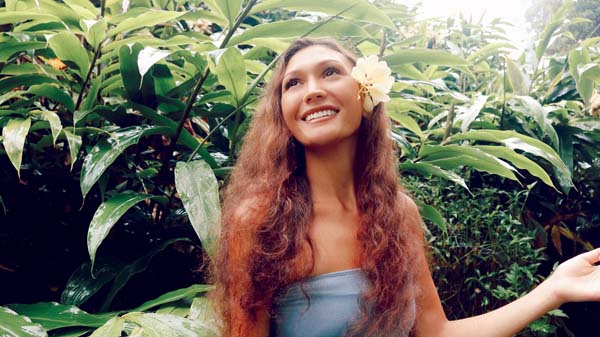 Namaka Cosma, the 21-year-old daughter of Hana legend Pekelo Cosma, will make her debut at the annual Ki Ho'alu Festival at the Maui Arts & Cultural Center on Sunday. ROBIN WHITE photo
Making her debut at the annual Ki Ho'alu Festival at the Maui Arts & Cultural Center on Sunday, Namaka Cosma is a Na Hoku Hanohano Award-nominated rising Hawaiian music star, the daughter of Hana legend Pekelo Cosma.
A graduate of the Institute of Hawaiian Music program at the University of Hawaii Maui College, she is one of only a handful of women in the state pursuing the art of slack key guitar.
Growing up surrounded by traditional Hawaiian music, she is keeping the torch alive, following her father's mission, as he reported in a 1998 Maui News interview, "to keep the light burning so kids can see we still have the old music around."
"I love Hawaiian music, but you don't really hear the old style," Namaka Cosma said. "It's so rich. I grew up surrounded by traditional music. I embraced it. Then, when I was a teenager, my mom and my sister and I had to go to San Diego for three years to take care of my grandpa. And I was going through different phases with rock, hip hop and R&B. One day, we were visiting Maui, and a Gabby Pahinui song came on the radio, and I just started crying and crying. I had missed it so much. After that, I really got into it."
As a child, she would often perform with her father.
"Me and my younger sister would go up. He'd kind of make eyes at us in the crowd. We'd sing and do a couple of hulas," she recalled.
Helping perpetuate Hawaiian slack key guitar, Pekelo Cosma founded the Maui Youth Slack Key Project and mentored Maui guitarist Ikaika Brown, the son of veteran musician Kevin Brown, when he was young. Years later, Kevin Brown began mentoring Namaka Cosma.
"After we moved back to Maui, I was a senior in high school and we called Uncle Kevin, and he offered to give me lessons," she explained. "I was still taking baby steps. A year passed, and I was finally ready to study with him. It's been so amazing. I've regained memories from when I was a little kid — I remember that little riff or that song. It's really emotional."
Kevin Brown recalled that "it all started in 1996, when Pekelo met Ikaika."
"Ikaika was only 9 and he was kind of mesmerized," he said. "Ikaika learned from me, but he also learned Pekelo's style. When Pekelo passed away, I told Namaka, if you are interested in studying slack key, I will teach you. Before we even met, her mom and the two girls went to San Diego. When she came back, the first thing she did was call me, 'Uncle I'm back, can you help me with lessons?'
"She's been taking lessons for about a year and a half now. She caught on real fast, and she has a unique vocal. I told her keep up with this because there's only a few left. One is Haunani (Apoliona), the other is Ku'uipo Kumukahi, and the other is Owana Salazar. You're going to carry on for the women. If you look at the other slack key artists, they are all passing."
While studying at the Institute of Hawaiian Music, Namaka Cosma recorded two songs with Geri Hewahewa, the daughter of Gilbert Emata, which were released as a single. "Ho'oheno A'o Pi'ilani" is nominated for a 2022 Hoku for Hawaiian Single of the Year.
As a 21-year-old female slack key guitarist, she is keenly aware of playing a significant role in the perpetuation of the art form.
"Almost every gig that I've gone to, people will tell me like 'oh my God, wow.' There aren't really that many female Hawaiian musicians nowadays too, especially my age," she said.
At the MACC festival she will be joined by her boyfriend, guitarist Sean Parks.
"We met in Hana because of Uncle Kevin," she said. "He also plays slack key."
Down the road, she hopes to release her debut album.
"I've been working on finding melodies for my dad's old compositions," she said. "He had over 100 songs that he never released, all about Hana. I would really like to get more connected to my family there and write some songs in Hana."
The 31st Annual Hawaiian Slack Key Guitar Festival — Maui Style! is presented free on Sunday at the Maui Arts & Culture Center's A&B Amphitheater, starting at 1 p.m. Gates open at 12:30 p.m. The 2022 festival lineup includes: Ledward Kaapana, George Kuo, Kevin Brown and Ola Hou, Bobby Moderow, Stephen Inglis, Jonah Domingo, Halemanu, Kimberly Hope, Kawika Kahiapo, Kamuela Kahoano, Dwight Kanae, Kailua Moon (Danny and Nani Carvalho), Paul Togioka and Namaka Cosma.
The concert will also be livestreamed on the MACC's website and on its Facebook and YouTube pages. Festival-goers are encouraged to bring their own low-back beach chairs and blankets. Shaded seating for kupuna will be provided.
The festival is presented by the MACC and sponsored by Maui County, the Office of Economic Development and The Maui News, with additional support from the Hawaii Tourism Authority, the Hawaii Visitors and Convention Bureau, the Ki Ho'alu Foundation, Ka-Hoku Productions and KPOA.