Officials urge visitors to book tours and ask airlines to stagger flights
July 17, 2021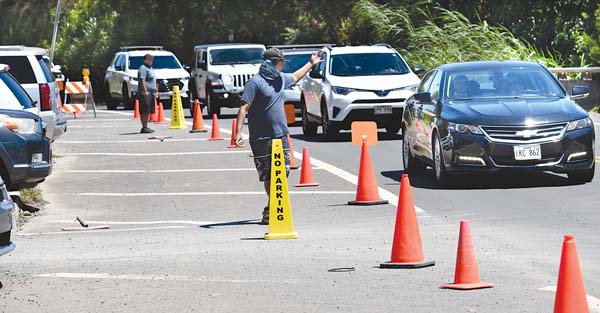 Establishing a shuttle bus service to take tourists to Hana, appealing to airlines to stagger flight schedules and even buying Hana Highway are some of the options the state is mulling as it tries to manage the surge of visitors on Maui amid growing public concerns with overtourism.
Frustrated residents for months now have complained about the very congested and now unsafe Hana Highway along with the massive crowds at Kahului Airport.
Gov. David Ige said this week that the state, Maui County and the Hawaii Tourism Authority have been working with other visitor industry representatives to find solutions.
The state Department of Transportation, for example, is "trying to find land so that they can create a kind of park-and-ride facility and then really working with the visitor industry to encourage visitors to use the shuttle buses rather than trying to drive their individual cars."
"Part of the problem is individuals and couples driving down Hana Highway causes that whole traffic jam," Ige said in an interview with The Maui News on Tuesday.
Maui Police Department spokeswoman Alana Pico said Friday that 200 citations for illegal parking and 35 warnings have been issued in the last three weeks along Hana Highway.
Ed Sniffen, DOT's deputy director for the Highways Division, said that they, along with the Airports Division and state Department of Land and Natural Resources, are looking for land away from Hana Highway and potentially at Kahului Airport to establish the shuttle service and park-and-ride. The shuttle would take riders to Keanae or Twin Falls, with a smaller circulation shuttle for the rest of the highway.
"We cannot require that the visitors use that, but we can definitely make it very easy for them to use it (so) we can minimize the traffic that goes toward Hana," Sniffen said during a virtual town hall Thursday hosted by state Sen. Lynn DeCoite, whose district includes East Maui.
A lot of the visitors would rather someone drive them than deal with the traffic, Sniffen said.
The state expects to have a time frame for the shuttle service after site selections are completed at the end of the month, Sniffen said via email. The service would need to be operated privately.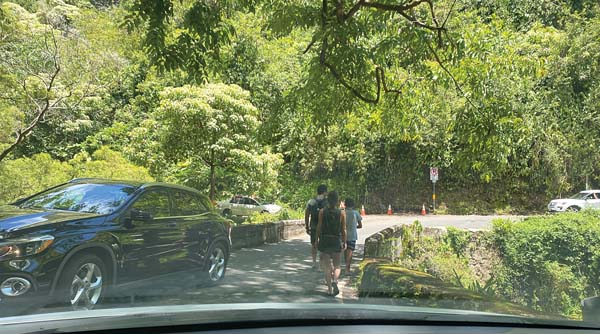 He also pointed to the "no parking" signs put up along the highway in early June as well as flyers that were distributed to rental car companies to alert visitors of the restrictions along the roadway.
DOT has informed the county that the state's share of the parking violation fines can help pay for additional enforcement if necessary, Sniffen added.
Caroline Anderson of the Hawaii Tourism Authority said during the town hall that the agency has worked with the Maui Visitors Bureau to put together a list of licensed companies that provide guided tours to Hana to try to get visitors on a tour instead of driving the highway themselves.
Anderson, who serves as HTA's director of planning, added that a flyer with tips on how to mitigate congestion on Hana Highway as well as its code of conduct has been distributed to organizations such as the Maui Hotel & Lodging Association and Maui Chamber of Commerce.
While some actions can be implemented now, Sniffen said that the state is also looking at ways Hana Highway access could be restricted.
Because the highway receives federal funds and is a public roadway, it cannot be limited to certain groups, Sniffen said. Part of the highway was limited to resident traffic only during the pandemic, but the measure was temporary and lifted in July 2020.
In order to have more control over the highway, the state could purchase it or buy back interest that the Federal Highway Administration put into the roadway. However, the state would have to ensure there are enough funds to operate and maintain it, including the highway's more than 50 bridges, all without federal help, Sniffen said.
As traffic piles up, officials have been trying to curb surging numbers on the arrival side, asking airlines to help stem the tide.
Despite claims and reports of Kahului Airport being over capacity, Ige said it is not.
"It's certainly not a situation where it's over capacity," Ige told The Maui News. "The airport can actually handle quite a number more visitors. I know that's not what the residents want to hear. The challenge is the airlines fly the same schedule, all of the planes arrive in a very short window and then the facility is overwhelmed."
Ige said he "had a number of conversations" with the airlines, some about a month ago, to try and stagger arrival and departure times, saying it would be in their best interest so passengers do not have to wait in long lines.
"The airlines say it's a very competitive business," Ige said.
Maui County Mayor Michael Victorino has also asked airlines to decrease their flights.
Maui Airports District Manager Marvin Moniz said in an email this week that staggering flights could help, but travelers might just look for another flight that meets their schedule.
Air carriers receive their authorization for routes from the Federal Aviation Administration and would need to receive federal approval before changing their service, Moniz said.
He acknowledged that passenger volumes do tend to be the highest between 10 a.m. and 3 p.m., "but a high number of passengers inside the terminal is not an indicator that the airport is 'over capacity.' "
The department looks at whether or not it can accommodate scheduled flights at the gates, and "by that measurement, Kahului Airport is not over capacity," he said.
Moniz said that as travelers begin to get accustomed to the Safe Travels platform that now allows uploads of vaccine documentation, the lines will improve.
The department continues to advise departing passengers to arrive two to three hours prior to their flights to provide enough time to go through security screening.
Both the DOT and Ige agree that "pent-up demand for travel" has led to the lines and crowds. More visitors are coming to Hawaii because of a lack of international destinations open to visitors.
Many airlines have aircraft sitting idle and are increasing flights to the islands, HTA officials said Thursday.
According to HTA data, scheduled inbound air seats to Kahului Airport this month numbered 345,407, an increase of 23 percent over July 2019, when there were 281,408 inbound airline seats. The numbers do not include interisland travel.
August is projected to see a 32 percent increase of airline seats over August 2019, while September will see a 36 percent increase over September 2019.
The Transportation Security Administration has also said it will resume its K-9 security services at Kahului Airport, which should help make screening processes faster, Moniz said.
Currently there are improvements underway to boarding lounge restrooms at the airport, which does reduce available space within the terminal but does not have an impact on the boarding lounges, Moniz said. Construction is expected to be completed in early September.
However, there may be an impact on boarding lounges in the first quarter of 2022 when new construction is scheduled to begin in that area, Moniz added.
Meanwhile, the Maui ALOHA Shuttle pilot program that launched July 3 to transport paying visitors between Kahului Airport and Wailea or West Maui accommodations has been extended until July 31, HTA said in an email late Friday afternoon.
Moniz did not give details on ridership numbers, but called it a "good program" that could be revisited around the Thanksgiving and Christmas holidays.
* Melissa Tanji can be reached at mtanji@mauinews.com.