April 11, 2020, 2:32 PM HST · Updated April 11, 2:32 PM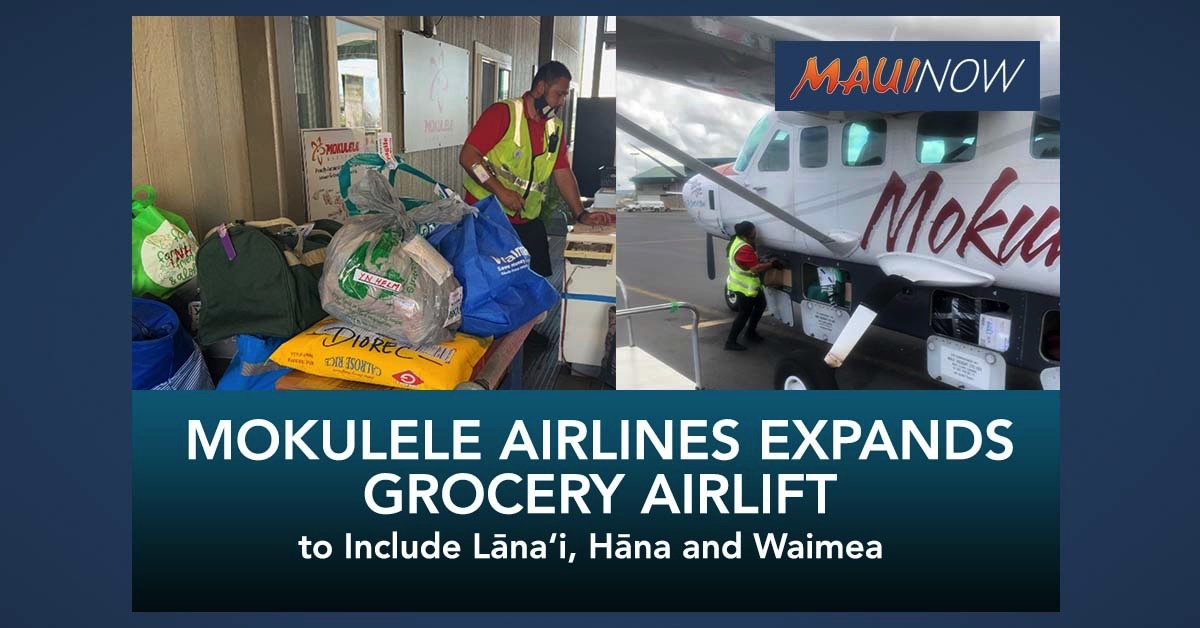 Mokulele Airlines expanded its Grocery Airlift on Friday to include flights to Lāna'i, Hāna and Waimea.  The service will continue through the end of the month.
Earlier this week, Mokulele announced that it would offer free grocery delivery to Moloka'i and Kalaupapa in response to a temporary closure of one of the island's two grocery stores after two residents tested positive for COVID-19.
According to Mokulele Airlines, the offer for free shipping is good for up to 50 pounds of groceries per customer and is valid for the rest of the April.
The Friendly Market Center on Moloka'i announced that it will be closed until April 20, with all employees currently in self-quarantine. Misaki's, the other major grocery store on the island, announced last Friday that they are going exclusively to a phone-in and walk-up ordering system.
"After talking with store owners, we saw that there was a serious need to provide help to supplement their efforts," said Keith Sisson, Chief Marketing Officer for Mokulele Airlines. "They are exhausted, and their staff should be commended for their hard work. By offering free grocery delivery from the neighbor islands, we are hoping to relieve at least some of the pressure and stress experienced by these essential retail workers."
With the shipping of over 2,500 pounds of food this past week, "the Grocery Airlift has seen such
an incredible demand that Mokulele is now expanding its offer to include all scheduled flights in
Hawai'i," the company announced.
"This is in addition to the airline's previous offer of free transportation of medical and sanitation supplies to hospitals, doctor's offices, and first responders," the airline announced.
Individuals wishing to take advantage of the offer should have their groceries at the Mokulele counters in Honolulu or Kahului at least 30-minutes prior to the flight's scheduled departure.
"It seems like everyone is looking for ways to help their neighbors during this unprecedented time," said Sisson. "Giving our staff the opportunity to assist the community in this way has brought back some big smiles and the aloha spirit that has dampened a bit during this crisis. We are so encouraged by the response to this initiative, and we are honored to expand these benefits to each of the nine Hawai'i communities we serve."
Departure times and grocery drop-off deadlines are as follows: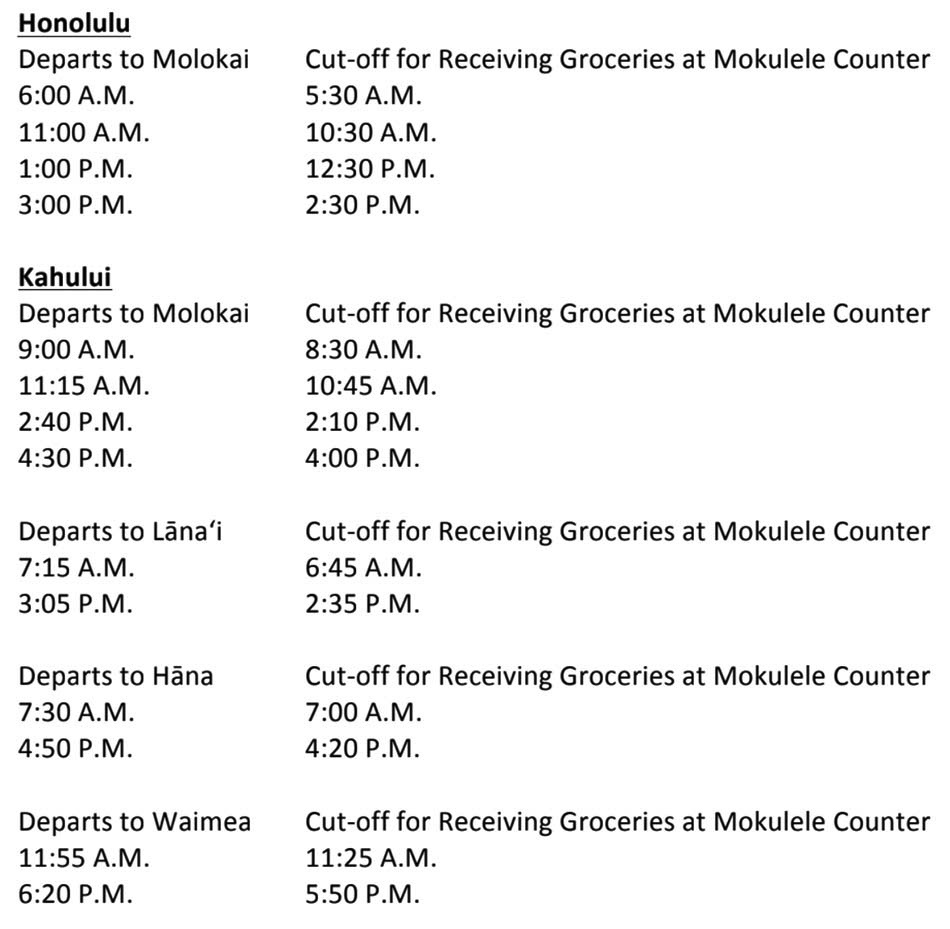 * Shipping of supplies and groceries does not need to be booked in advance and can be arranged in-person by visiting the Mokulele check-in counter at Honolulu and Kahului. Some flights may not operate every day from every location.
To confirm the next day's fight status, call the Kahului station at (808) 872-9669 after 3 p.m. the day before grocery drop off. There is a limit of 50 pounds per customer. This offer is only good for groceries (and medical and sanitation supplies for medical providers and first responders). All other items are subject to standard shipping costs. Perishable items are shipped at the shipper's risk. The airline takes no responsibility in the event of a delay.
For more information, or to arrange an interview, please contact chief marketing officer, Keith Sisson (k.sisson@iFlySouthern.com 228-313-9920).