JUN 29, 2021
DAKOTA GROSSMAN
Staff Writer
dgrossman@mauinews.com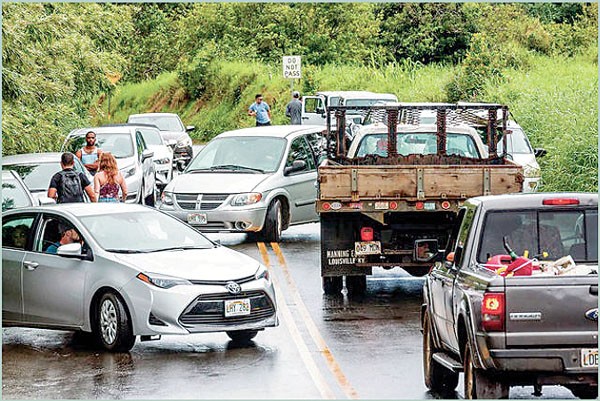 Establishing a parking enforcement task force, addressing social media influencers and towing illegally parked vehicles were some of the simpler possible remedies mentioned Monday to deal with the "health and safety crisis" on the congested Hana Highway.
"I appreciate that there is a lot of attention to this matter, that there's a realization that the road is basically over capacity and that there's something that needs to be done about it," said Hana resident Scott Crawford during the Maui County Council's Infrastructure and Transportation Committee meeting Monday morning. "When the road is over capacity and literally grid-locked so that emergency vehicles aren't able to get through, that is a safety crisis. If somebody needs a medical response in Keanae and the ambulance cannot get there, that is a health and safety crisis."
Emergency Medical Technician Kathleen Soule, who works out of Station Medic 6 Hana told the committee that the "extreme increase in the number of cars" has caused delays for the only ambulance in East Maui, which is responsible for transporting patients to Maui Memorial Medical Center or responding to emergency calls in the community.
"There are many areas on the Hana Highway where we are delayed because of the cars not pulling over or the line cars," Soule said. "I do also see many more tourists at Red Sand Beach that need rescuing because they wear rubber slippers or they have no idea how to manage the trail, which is very dangerous, so it increases the number of patients that need to be taken out."
The council's Infrastructure and Transportation Committee on Monday discussed the issues and possible remedies to deal with the congested highway.
"It was a lot of really good information," said Committee Chairwoman Yuki Lei Sugimura after the meeting.
There was no decision-making scheduled for Monday. The Committee is expected to discuss the matter again on July 22 as well as receive more information from Mayor Michael Victorino's office and the state Department of Transportation.
Among the possible solutions mentioned Monday is training residents to help patrol the highway.
It can "help eliminate strain on the police force," as well as increase visitor education without criminalizing tourists, said Napua Hueu, of Hana Highway Regulation, a volunteer-based organization that aims to improve safety and efficiency on the roadway for visitors and residents.
Hueu and the committee also discussed the idea of addressing social media influencers that post or advertise trespassing onto local hotspots, some of which are private property.
"A large majority of these illegal sites are being promoted by influencers via social media, on various different apps, and YouTube videos, so there is a need for some creative legislation that prohibits the curation of media content related to sites on private property or those sites that see routine visitor injuries and fatalities, and there's a significant need for more effort by the property owners themselves," Hueu said.
Towing illegally parked vehicles was also mentioned, but the idea was seen among some officials as a safety hazard if people are left stranded in rural areas without transportation or cell phone reception.
Restricting access on the federally funded state highway was also mulled, but that is not possible for a public roadway said Robin Shishido, state Department of Transportation Maui District Manager.
Shishido said that implementing tolls has been brought up in the past on Oahu, but was denied. However, pursuing this idea for Hana Highway is "not impossible" and would just require a lot of work and consideration, he added.
Shishido said that the typical capacity for a two-lane highway is about 1,000 cars per hour, but single lane bridges, narrow turns and other factors "affect what the capacity is."
This is the type of data the department is currently collecting for Hana Highway, he added.
Shishido said the department in is working with county officials, Hawaii Tourism Authority and rental car companies to put up posters and flyers educating travelers about taking precautions while driving to Hana, fees and surcharges for illegal parking on the highway as well as where they can park, planning ahead, and researching public areas to visit.
About 70 signs along the road to Hana have been installed recently to discourage illegal parking by warning of a $35 no parking fine and a $200 surcharge for illegal stopping on a state highway.
"In regards to the signs, since they've been put up, myself and my friends have noticed an extremely alarming increase in families walking on the road," said Mahealani Carbonello, a testifier who travels on Hana Highway to Honomanu Bay to help with a loi patch restoration project.
"It's extremely dangerous, there are little children, elderly people and it's narrow. There are blind turns, so that's an issue."
Between June 1 and June 23, the Maui Police issued 389 parking citations and 83 warnings to violators on Hana Highway between Haiku and Hana town, according to a county news release.
Majority of testifiers on Monday supported the idea of more enforcement, but Maui Police Capt. Everett Ferreira said the department is operating with fewer officers. MPD has spoken with the State sheriffs department and the state Department of Land and Natural Resources Division of Conservation and Resources Enforcement about assisting with enforcement in Hana.
"The chief's office is aware of the situation in Hana and as mentioned by the many speakers, we are over-taxed and we are short handed, but we are doing our best,"
Ferreira said. "They stop by one area, they cite or educate individuals and then they move on, but it doesn't really solve the problem. In the moment it solves it, but then it just goes back to where it was before."
Mayor Michael Victorino recently met with airline executives to determine their willingness to voluntarily reduce airlift into Kahului Airport, according to a news release.
Victorino has also met with MPD officials to discuss the possibility of establishing a category for parking enforcement officers. Another temporary solution may be augmenting the effort with County Park Rangers, however both options require an agreement with the unions representing both groups.
* Dakota Grossman can be reached at dgrossman@mauinews.com.