The 2nd Annual Hāna Youth Fest, sponsored by the Hana Community Association (HCA), brought out a great crowd this year! On Saturday July 8, over 100 kids and 70 adults were at this celebratory event at Hāna School under the canopy of monkey pod trees, and registered for a variety of prizes and giveaways provided by our generous organizations through their representatives. The main organizer for this event is Kamalu Carroll, bringing her enthusiasm into the community as an active board member for both HCA and the Hāna Business Council (HBC). This year a focus was on providing youth of all ages with opportunities – from fun activities at the variety of booths (and a massive bounce house), to workforce and career development support and job information.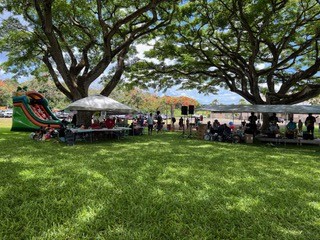 Big Mahalo to the HCA partners who made this event possible! 
Hana School including Hana Arts & Ma Ka Hana Ka ʻIke
Department of Education (McKinney Vento program)
Maui Police Department & Hāna Officers
Hāna Fire Department
Maui District Health Office for providing funds to Hoʻokaika Partnership Navigator for backpacks, school supplies and a variety of additional family oriented products
Hāna Parks & Recreation Department
Maui Economic Opportunity
Maui Family Support Services
Kane Connection Program
Child and Family Services
Children's Community Council
Project Vision Hawaiʻi providing SNAP and Medquest Eligibility Application Assistance
Mental Health America of Hawaiʻi
Alu Uke Inc. / Hoʻala Hou
Hana Business Council Members with Association to the Hawaiʻi Farmers Union – Hāna Chapter
Valley Isle Excursions
Senator Lynn DeCoite
And huge gratitude to our Hāna Football Team who prepared the ono grinds, along with amazing hands-on help moving so many boxes of donated items! Participants at the event included families who ʻcame home to Hāna' with their keiki from throughout Maui Nei and other areas of Hawaiʻi. We look forward to seeing the whole ʻOhana again at next year's event.