Ramp upgrades to force temporary closures for boats, swimmers
June 11, 2021
KEHAULANI CERIZO
Staff Writer
kcerizo@mauinews.com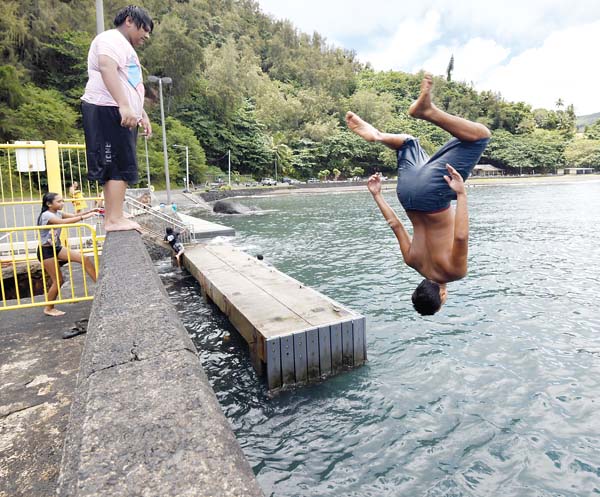 Despite concerns about fishing boat access, Hana residents are warming to a state project slated to start early next month that would help protect Hana Boat Ramp and its users from waves.
The roughly $1.4 million Hana Boat Ramp and wharf project, facilitated by the state Department of Land and Natural Resources, will upgrade the boat ramp, loading dock and wharf structure at Hana Bay, DLNR said at virtual community meeting Thursday morning.
Work will close the boat ramp completely for at least eight days beginning July 12, which will impact boaters, especially fishers who depend on the infrastructure for their livelihoods.
Although nothing outside the area will be closed during construction, the boat ramp vicinity will be shut off to swimming and other ocean recreation for about 35 days through the end of August, officials said.
Dawn Lono, executive assistant for Maui County Council Member Shane Sinenci, whose residency seat covers East Maui, said during the meeting that a lot of fishermen have been contacting Sinenci's office to voice concerns about not being able to fish for the eight days of construction.
"I just wanted to let you guys know that when you guys are closing the ramp on those days — this is our busiest fishing time of year," Hana resident and commercial fisherman Eli Gold said at the meeting. "This when most of us fishermen make about probably 80 percent of our profits to support our families, and you guys are going to be closing it to us during our busiest time of year. It's going to really affect our families."
Doug Fraser, project manager for contractor American Marine Corporation, emphasized that the goal is to get work done in eight days — barring bad weather — and reopen it as soon as possible.
Finn McCall, DLNR Division of Boating and Ocean Recreation engineer, said the project was limited to summer because it's the only time work done in the water can be carried out safely.
Fraser said boating access cannot be scheduled before and after the daytime construction work since the area won't be functional.
"Once we remove the boat ramp panels, it's going to be down to raw dirt and we actually have to take that dirt out and compact new soil," he said. "Once we tear it apart, it will be down and you won't be able to get in or out."
Hana resident Claire Kamalu Carroll, a longtime fisher, suggested temporary moorings for boaters. Officials replied that they would research permitting and other details for them.
Hana residents also asked whether rocks would be installed to mitigate waves. "That was a big concern because kids were getting sucked in by the surge," Carroll said.
McCall explained that one aim of the project is to place armor stones in an effort to break up wave action and provide more protection for boaters at launch. Historically rough waters have been pummeling the boat ramp, making launching more dangerous, he said.
"The armor stones will provide some protection," he said. "It won't provide 100 percent protection — we're not saying that there won't be any waves coming though — but it will help alleviate the situation."
Instead of removing a section of the existing wharf, project officials decided to find another way to bring in the large stones and lower them into the water near the concrete stairs and down to the existing concrete dock.
"Divers will be in water with large float bags and float the large stones into place," McCall said. "Then they will use a pulley system from above to pull these stones into place."
Fraser said a total of 260 tons of armor stones — 14 large stones at 7 tons each and 44 midrange stones ranging from 3 to 5 tons each — will be used.
"They're big … pretty much the size of a Mini Cooper," he said.
Fraser added that the stones will be brought in to Hana via truck.
Hana Fire Capt. Gale Notestone said the rocks will be laid "all the way around."
"From the new revetment that was placed some years ago all the way around to the loading dock area," he said. "So kind of filling up the whole bottom section with rock to try and stop that surge."
"That would be wonderful," Notestone remarked.
Overall, the project will install new precast panels at the top of the boat ramp, new stones beneath the existing wharf structure to help protect the ramp from constant wave action and a new loading dock section that connects the existing aluminum framed loading dock to the existing concrete loading dock sections.
In 2016, the state Department of Transportation nixed plans to repair the aging pier after residents worried that a new pier would bring commercial activity to the area. Instead, the department planned to remove it and conducted a lengthy study that was accepted by the governor in 2019, with construction slated to begin in 2022. However, the demolition will no longer be part of the project because of community pushback and the new plans to upgrade the structure, officials said Thursday.
"I'm happy that you guys are doing it," Notestone said. "I think it's a small price to pay for especially the protection you're going to provide all the boats that use that ramp. … It is so needed and is so worth what you guys are doing. I want to thank you very much for doing that and whoever else came up with the money."
Carroll encouraged residents to keep children away from the work area, especially because that shoreline is popular during the summer.
"Being a past fisherman, I know how it's very important to go fishing, but keeping our children and grandchildren away from the work area, I think is the most important thing throughout this process," she said. " We know it's summer but safety would be the most important thing in this process. And getting our fisherman … to make it more feasible to continue their daily livelihood."
Fraser said he will be on site over the week leading up to the project and will answer questions then. McCall said he can be reached for questions from residents at (808) 587-3250 or finn.d.mccall@hawaii.gov.
* Kehaulani Cerizo can be reached at kcerizo@mauinews.com.
Hana Boat Ramp and wharf project timeline:
• First week of July: Contractor on site to mobilize, bring in precasts.

• July 2: State sign with schedule and other details will be posted near work location.

• July 12 – July 23 (Goal is to finish within eight days but a few weather days have been included): Closure of boat ramp; mooring alternatives for fishing boats being researched.

• July 23 to end of August (about 35 days): Closure of boat ramp area to swimming and other recreational activity during rock revetment work.

• End of August through September: New loading deck section installed.

Nothing outside the boat ramp area in Hana Bay will be closed for swimming, recreation, paddling, fishing during construction, the state Department of Land and Natural Resources said Thursday.