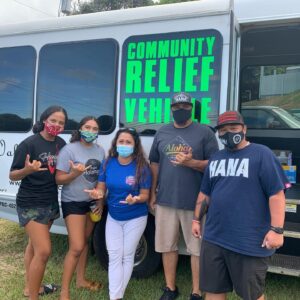 Hāna Community Relief van helps insulate the residents of East Maui from the threat of COVID 19.
Every Friday, Valley Isle Community Relief will bring items from Kahului to Hana at no cost.
Mahalo to Yoli and the Hutaff Ohana, Valley Isle Excursions, Ikaika Kukona, and Mark Silva for volunteering your personal time to this great service.
It works much like a personal shopper:
1.  Residents can order from Costco, Target, Safeway, and Petco through www.instacart.com (use 96793 as zip)
2.  Set delivery to this address: 466 Ahuli'u Way Wailuku 96793.
3.  Set delivery time to: 11-1pm
Your order will be delivered on Friday at 4pm at the Hāna Farmers Market.
Stops are also available in Keanae, Nahiku, Kipahulu, Kaupo, Kahikinui.
Strict safety protocol folllowed; Both drivers are tested negative for COVID 19 – masks on – social distance.
Busses are sanitized before and after each use.  Minimal handling of customer items.