The Maui News
FEB 4, 2022
DAKOTA GROSSMAN
Staff Writer
dgrossman@mauinews.com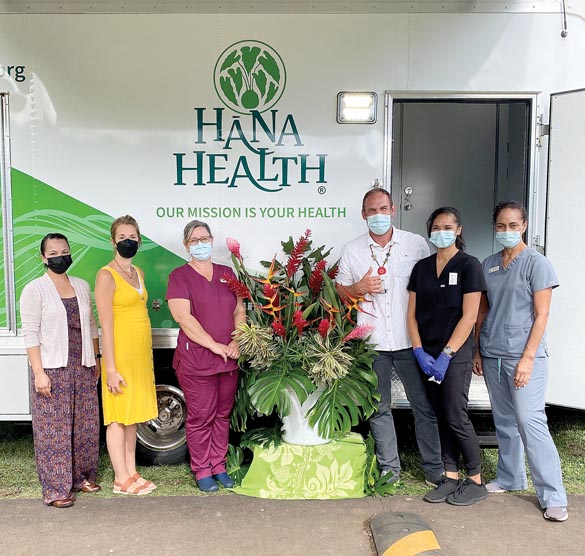 For patients who may have challenges accessing health care in an already isolated community, the Hana Health Clinic will be launching mobile medical services next month in the Hana district.
A federally funded, estimated $200,000 mobile unit was delivered to the community's lone health care facility mid-January and will hit the road in March once safety check requirements and registration is finalized.
While details are still being worked out, Executive Director Cheryl Vasconcellos on Tuesday said that mobile care "helps to service kupuna with limited mobility" and allows for "greater health care response during a pandemic."
The unit can also provide on-site health care services at school.
Currently, the trailer includes an intake/reception area, lab space, a medical refrigerator with a digital thermostat, a small exam room with an exam table, basic diagnostic instruments, a restroom and wheelchair lift.
"We expect to provide wellness exams, acute care, chronic disease management, health screenings, immunizations including COVID-19 and flu vaccinations," Vasconcellos said.
Other possible small equipment needs are still being considered. The mobile care trailer still needs a driver and a medical provider, too.
To start, she's expecting that about 10 patients on average could be helped a day.
"Still putting plans in place," she said. "This really depends on where the unit is located and the specific needs of the community."
But the goal remains clear, which is to "reach outlying areas for those who find it difficult to access (the) clinic."
Construction crews also recently broke ground on the proposed Hana Health Rehabilitation and Support Center project, a 3,800-square-foot, multipurpose facility that will be built next to the existing health center by the end of the year, Vasconcellos said.
The $5.3 million facility will include space for physical therapy, chiropractic care, cardiac rehabilitation, short-term medical respite, mental health care and specialty services using the telemedicine technology.
Administrative offices will also be relocated to the new building.
Hana Health anticipates serving around 1,000 residents through the new center based on a previous survey on the community's needs, according to its website.
Hana Health's usual clinic hours are from 7 a.m. to 5 p.m. on Monday, Tuesday and Thursday; 7 a.m. to noon and 2 p.m. to 5 p.m. on Wednesday; and 8 a.m. to 5 p.m. on Friday.
Special kupuna hours are from 7 a.m. to 12 p.m. on Tuesday and Thursday.
COVID-19 vaccine clinics are held every Wednesday and are open to all Hana district residents 12 years of age and older.
Appointments are required and proof of residency must be presented. To schedule an appointment, call (808) 248-8294.
* Dakota Grossman can be reached at dgrossman@mauinews.com.