Hana-based nonprofit plans to manage shoreline, use land for conservation projects
The Maui News, December 20, 2021
By Dakota Grossman, Staff Writer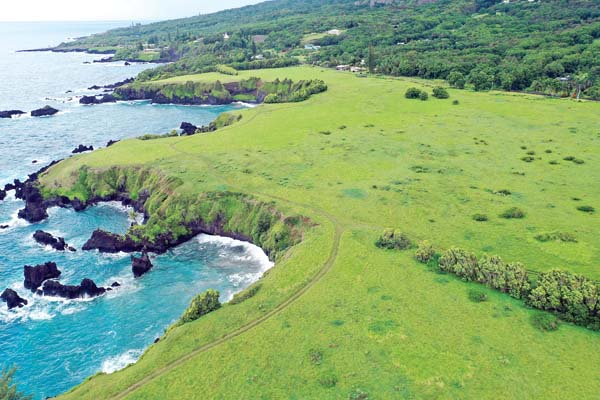 To ensure community access and cultural practices are maintained, and that the vision for future shoreline management, native plant restoration and conservation projects remain without threats of development, the Hana community and its supporters worked to acquire 30 acres of coastal lands in East Maui.
Hana-based nonprofit Ke Ao Hali'i (Save Hana Coast), in partnership with the State of Hawaii, County of Maui and Hawaii Land Trust, purchased property that stretches from Maka'alae along the Hana coastline for just over $3 million.
"To have acquired this land and placed it under conservation easement now means, first of all, that the Hana community doesn't have to worry about it being purchased by an outside investor, developed and access cut off for our local families," said nonprofit chair Scott Crawford on Sunday. "And more importantly, it means the community of Hana now has the opportunity to take care of and restore this land."
The protected lands complete the second phase of a four-phase plan that started in 2018 to purchase and "permanently preserve" 1.5 miles of coastline and open space south of Hana town, which stretches from Hamoa Beach to Waioka Pond and Waihonu Stream. The Maka'alae land is sacred and significant because of the Native Hawaiians who lived there, as well as Hawaiian mythology and legends of the area.
The land includes historic sites from ancient times through the sugar plantation area, open space pastureland for prime cattle grazing and coastline that is used by local families for subsistence food gathering and cultural practices.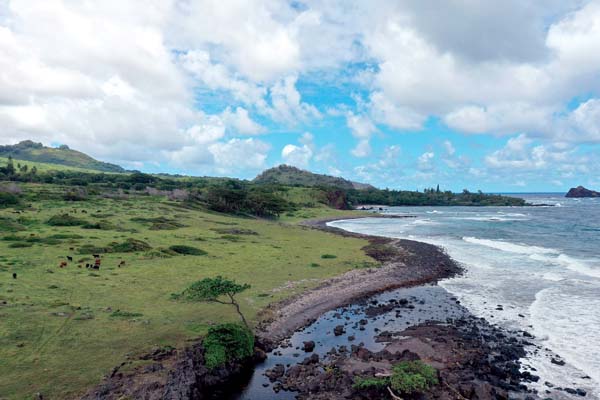 Ke Ao Hali'i purchased the 30 acres for just over $3 million from Hana Ranch Partners, with the State Legacy Land Conservation Program contributing nearly $1.6 million, and Maui County's Open Space Fund contributing $1.5 million. The land is permanently protected with a conservation easement co-held by Hawaii Land Trust and Maui County.
The overarching goal is first to "ensure that local families have access to this area to practice their traditional lifestyle and pass those practices and values on to younger generations," Crawford said. "And then to develop and implement a shared vision of a restored Hawaiian landscape, such as native plant restoration, canoe plant agriculture, shoreline management, native bird and insect habitat restoration, and most importantly educational programs to get our young people involved to understand their kuleana, because we're doing this for them," he added.
In a news release last week, John "Irish" O'Hara, who is the vice chairperson of Ke Ao Hali'i and a lineal descendant and resident of Maka'alae, thanked all of the organizations and individuals who gave a "chance for the descendants and community to malama this special place and for protecting the land for future generations, so our culture and way of life can be preserved."
"This is a priceless holiday gift from Ke Ao Hali'i, Hawaii Land Trust, the State of Hawaii and the County of Maui," said Maui County Mayor Michael Victorino in a news release. "It's a gift for our community today and for generations to come."
Maui County Council Member Shane Sinenci, who holds the East Maui residency seat, said last week that "this is a historic moment for the Hana community. This acquisition means that historic sites, ancient burials, important fishing grounds and significant cultural history will remain in conservation, and in local hands, for the future children of Maui Nui, in perpetuity," Sinenci said in a news release. "We are grateful for the generous support of our public and private partners, our local communities, and Hana Ranch Partners, who came together to permanently protect these lands."
This effort is a continuation of nearly two decades of conservation work. In 2002, the Hawaii Land Trust worked with landowner Hana Ranch Partners to permanently protect 46 acres fronting Pohakuloa Bay at Maka'alae, making this the land trust's first conservation easement. In 2014, the land trust acquired two conservation easements totaling 14 acres fronting Opau Bay at Maka'alae. In 2018, families from the Hana community came together to form nonprofit Ke Ao Hali'i to protect the remaining properties from Mokae to Maka'alae.
"The conservation easements over these lands prohibit subdivision and development, allowing for the continuation of cultural practice, ranching, indigenous ocean food systems and maintaining community access in perpetuity," said Shae Kamaka'ala, the land trust's director of 'Aina Protection. "We are grateful for the generous support of our public and private partners, our local communities and Hana Ranch Partners, who came together to permanently protect these lands for generations to come."
The state Department of Land and Natural Resources said they supported the Maka'alae land acquisition because they recognize it as a resource that is "locally organized and broadly inclusive."
"In our ongoing relationship with the management of these lands for public benefit, we look forward to working with Ke Ao Hali'i to fulfill its kuleana, achieve its vision and implement an access policy and a code of conduct, all to perpetuate the legacy of these lands, and all in partnership with Hawai'i Land Trust, Maui County and Hana families," said DLNR Chairperson Suzanne Case.
Ke Ao Hali'i's land acquisitions started with the purchase of 27 acres at Mokae overlooking Hamoa Beach in 2020, with support from the State Legacy Land Program and Maui County's Open Space Program. The parcel, in an area known as Kaholaiki, includes historic burial grounds and cultural sites, and provides vital access for community subsistence, according to a news release. Similar to the newly acquired Maka'alae property, this Mokae parcel is permanently protected as undeveloped open space via a conservation easement.
With the second phase now complete, the third phase includes protecting 40 additional coastal acres at Mokae, located between the Mokae lands acquired in 2020 and the newly purchased Maka'alae lands. According to the news release, Ke Ao Hali'i and the land trust are working to raise the remaining funds to complete the purchase in early 2022. Once the third phase is complete, Hana Ranch Partners committed to donating the remaining parcels that were previously protected in conservation easements. This step would conclude the acquisition and protection of all 152 acres of undeveloped lands makai of Hana Highway from Haneo'o Road to Waiohonu Stream.
"The land will be managed by Ke Ao Hali'i with help of the Hana community and supporting partners through the implementation of a land management plan to enable community access and cultural, subsistence, agricultural and recreational uses, while preserving the conservation values of the land," according to the news release. To learn more or to contribute to this effort, visit savehanacoast.org/campaign.