Board would oversee water lease agreements; charter amendment could be put on ballot
Dakota Grossman, Staff Writer, dgrossman@mauinews.com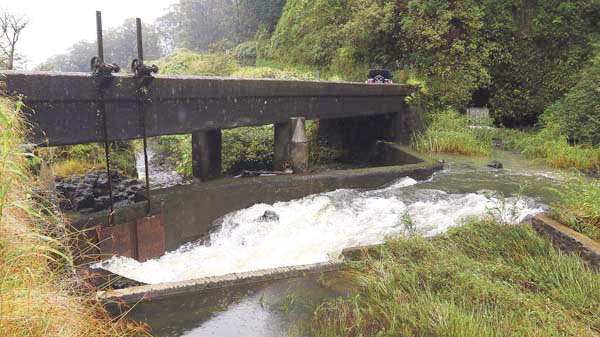 A taro farmer said her "dreams are coming true" as Maui County seeks to create a local board that would oversee and help manage long-term water lease agreements and water supply in the East Maui watershed.
A County Council committee is considering a charter amendment proposed by Council Member Shane Sinenci that would let voters decide whether the county should establish an East Maui Community Water Authority and Community Board.
"This is a heartfelt issue for my family," Mary Ann Pahukoa said Tuesday during the council's Government Relations, Ethics and Transparency Committee meeting. "As a taro farmer, the way the water comes down — and I cry because water is life — it helps our limu grow. The estuaries are one of the most heavily fought issues, but so simple to understand. When these estuaries connect, we have more limu, we have more food for our keiki."
Most testifiers favored the amendment, including Blossom Feiteira, who said it's an "excellent idea" and an opportunity for the county "to be able to take charge of an important resource for our island."
If passed by the full council and later by voters in November, the amendment would create the water authority to pursue the feasibility of acquiring the long-term water lease agreements for the Nahiku, Keanae, Honomanu and Huelo license areas.
It also calls for entering into an agreement to provide a long-term reliable supply of water for domestic and agricultural needs.
The board would manage water resources in a "competent, fiscally responsible, and transparent manner," according to council documents.
As it stands, East Maui Irrigation — owned by Alexander & Baldwin and Mahi Pono — is applying for a 30-year water lease for the East Maui streams.
Approval of a 30-year water lease to EMI would place a significant amount of Maui County's water resources under the control of "a foreign, for-profit investor entity," according to the resolution. Mahi Pono was created as a joint venture between California-based Pomona Farming and Canada's largest pension fund managers, Public Sector Pension Investment.
"We're dealing with large corporations of A&B and a Canadian pension fund that has interests of the very, very highest level organizations, that does not include the interests of Maui County," said Paul Deslauriers, a member of the Charter Commission that spent the past year reviewing and proposing changes to the County Charter.
Deslauriers added that a county board "provides a framework to ensure monitoring and there's ways to manage the systems and ways to repair the system. It empowers our local community for the most important resource that we have."
East Maui streams were diverted to plantation operations for more than a century through a complex system stretching 75 miles through the watershed. Residents have fought for water rights and advocated for better management practices for decades.
"Nobody knows Maui Nui — Maui, Molokai, Lanai — better than local people," said South Maui resident Zandra Amaral Crouse.
Jerome Kekiwi Jr., president of Na Moku Aupuni O Koolau Hui, which has launched legal challenges over stream diversions, said a substantial portion of East Maui waters flow through the district. The organization has played a key role in restoring streams and loi kalo farms in Keanae, he said.
Kekiwi said the community is in support of establishing an East Maui Community Water Authority and community board, and if the amendment is passed, he hopes that members will be represented on the board.
East Maui farmers and residents alike, including Upcountry folks, rely heavily on how healthy and plentiful the resources are.
"You would have to be sleeping to not see how hard East Maui has fought for the rights of its water," said Kula resident Jordan Hocker, who is running for the Upcountry residency seat on the council. "You can bring in scientists all day long, but the intergenerational knowledge of how the watershed operates and where it is healthy and unhealthy, really is in East Maui. … There has to be recognition that the knowledge is as important as scientific knowledge going forward when we're managing our water."
Kula resident Dick Mayer said he's concerned about what might happen if the amendment is not placed on the ballot.
"We have no idea what would be in the lease itself and that's unsettling because it may give authority, for example, to EMI or Mahi Pono or whoever ends up with it, to be able to set the rates that they would charge the county and subsequently all the residents and farmers of Maui," Mayer said.
Other charter amendments that the committee is considering include:
• Creating a Maui County Planning Commission as well as planning commissions for all community plan areas on Maui, while dissolving the Maui Planning Commission.
• Establishing a residency requirement for board, commission and committee members, which many testified in support of Tuesday.
• Establishing a county policy to promote climate change adaptation, including the implementation of guidelines to allow telework and alternative work schedules for certain county employees.
During its meeting at 9 a.m. Wednesday, the committee will discuss whether to recommend the amendments and place them on the ballot. The deadline for the decisions is July 15.
* Dakota Grossman can be reached at dgrossman@mauinews.com.