Travel & Tourism
By Sophia Compton  –  Reporter, Pacific Business News
Mar 7, 2023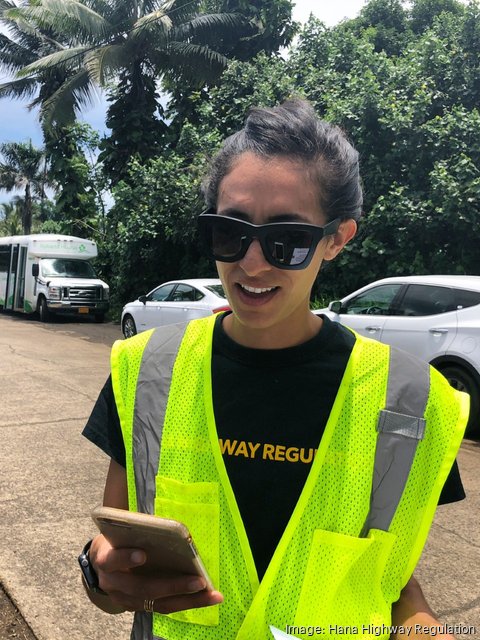 Hana Highway Regulation was formed in 2016 to help the local government and the visitor industry address the impacts of tourism on the East Maui community, according to the group's Administrator and Community Coordinator Napua Hueu.
In order to collect information, Hana Highway Regulation has facilitated town hall meetings, and has conducted traffic surveys, interviews, visitor questionnaires and more. In 2017, the organization established the Hana Highway code of conduct. Since then, it has been able to decrease the amount of unlicensed tour operators in the area, according to Hueu.
"We have engaged with large platforms, influencers and content creators asking they remove media that entices visitors to seek out dangerous locations," she said.
Hana Highway Regulation is currently working to garner support from the Maui Visitors and Convention Bureau and Hawaii Tourism Authority in order to implement its Visitor Information Personnel service concept to help prevent illegal parking and trespassing on private property, which can cause traffic hazards and subsequent delays, according to Hueu.
How can the interests of residents and visitors be more balanced in East Maui? By creating generational resident employment opportunities in the visitor management sector. In positioning knowledgeable residents at popular locations that are known to incur visitor emergencies, it creates visitor accessibility to regional intelligence such as geographical, historical and cultural information. Furthermore, including residents into the visitor experience greatly enhances visitor safety. For example, on days when weather is not optimal and streams are subject to flash flooding, residents could redirect visitors to safer options, which could save visitors' lives. When visitors attempt to park illegally, residents could convey where permitted parking is located.
The visitor information personnel concept presented here would create paid positions for interested residents, while alleviating the visitor management obligations that are currently imposed upon the community at large.
What can be done to better protect Hawaii's cultural sites or areas on private property — in general and in East Maui specifically? Visitor information personnel are needed across Hawaii to convey place-specific information to visitors in the field. This is a proven method for safekeeping our visitors, but also a means to better protect Hawaii's cultural sites. Leaving visitor safety and cultural site protection up to … posted signs has not been effective to date.
What are your goals for Hana Highway Regulation this year? We have spent the last few years exercising the efficacy of our visitor information personnel concept, which has proven to decrease illegal parking, trespassing on private property, site degradation and unlicensed commercial activity by 96%. It is our understanding through years of research and data collections that the private landowners in East Maui are not the ones promoting the attractions located on their properties, and yet are heavily burdened with the consequential visitor impacts. Our goal this year is to work with our district representative's office to begin drafting legislation that will identify the parties responsible for the cost of this visitor information personnel service as a prerequisite to implementation. We look forward to creating these important jobs for our community that would subsequently help satisfy the visitor industry's responsibility to Hawaii.