On Saturday August 12, my husband Scott and I headed over to the Red Cross office in the Cameron Center in Kahului for a 9am training. We wanted to learn how we could be mobilized with Red Cross.
What we learned was that prior to the Maui fire disaster, there had been around 200 Red Cross volunteers and just in the last week and additional 1500 community members had reached out to sign up. We sat through an orientation, and were fortunate to already have active Red Cross accounts from previous participation, but found out about areas where volunteers can do trainings to actively assist. We were able to follow a supply truck delivering medical items to a couple of the shelter locations. We learned that one of the best things to do is to listen to those affected and gather stories.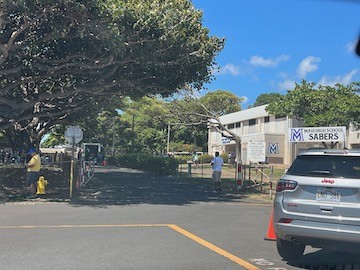 This article is my ʻcrib notes' for our East Maui Ready emergency response network …
There are some ʻprerequisitesʻ to participating as an active Red Cross volunteer:
1. With the advancement of technology a mobile phone is pretty much required.
2. Download the Red Cross Volunteer Connection App – Fill in your profile information – A background check is required and takes about 48 hours to process
3. Trainings through the Red Cross EDGE program will be directed depending on your availability and Skill Area i.e. Detailed Assessment for Disaster Action Team Response Operations
Jenny Worth our intrepid Maui Red Cross Disaster Relief Coordinator has her hands full, and as we get additional information from her team we will share updates.
The Maui Fire Disaster has been another wake up call for gathering our resources and experience to be prepared within our community. I have built the "Moʻolelo – Share Your Stories" page on the HānaMaui.com for gathering the information and personal actions we are all taking in this devastating time.