Valerie Park, 83, last seen Nov. 5
Nov. 12, 2020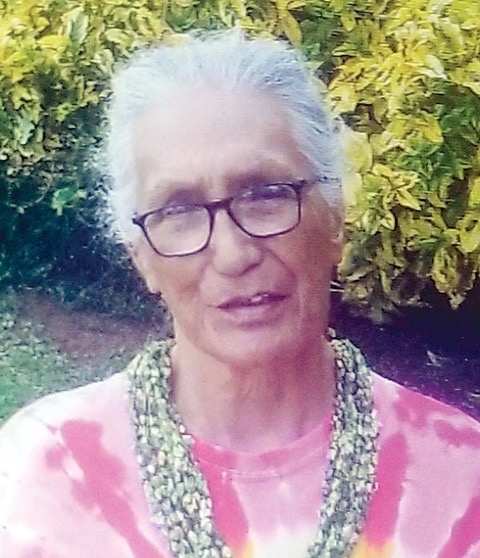 Wednesday marked the sixth day that 83-year-old Valerie Park has been missing, with hundreds of volunteers combing the island for signs of the Hana woman.
Family, friends and volunteers have searched East Maui, especially the areas Park would frequent. The missing woman has dementia and is hard of hearing.
"We went over and over the same areas. There is no sign of anything," said Park's niece Kanani Kahalehoe.
"We like to think she caught a ride, and she came out this way (to Central Maui). Maybe someone dropped her off on this side," Kahalehoe added.
But so far, no one has called to say they gave a ride to Park, who does not drive. Leads received so far have turned up nothing.
"It's just getting dimmer, today's the sixth day," said Kahalehoe, who is the eldest niece of the family.
Kahalehoe's late father, Edward "Eddie" Pu, is the older brother of Park. She did not have children but helped raise her nieces and nephews.
According to police, Park was last seen around 8 p.m. Nov. 5 at her residence in Hana. At around 5 a.m. Nov. 6, it was discovered that she was gone.
On Wednesday afternoon, Maui police confirmed that Park was still missing.
She is a Hawaiian woman, approximately 5 feet, 6 inches tall and about 110 pounds. She has gray hair and brown eyes. She was last seen wearing a bright, multicolored night robe but may have changed to unknown clothing prior to leaving the residence.
She may have hitchhiked to the Kahului or Wailuku area.
Anyone with information about Park is asked to call the Maui police nonemergency line at 244-6400.
Kahalehoe said that a community meeting was scheduled for Wednesday in Hana where a more formal search sign-up would be held.
Maui police and members of the Maui Fire Department and Maui Search and Rescue have all been looking for Park, she added.
Kahalehoe said authorities relayed to her: "It doesn't hurt to go back and search again in the same area." Areas yet to be searched include Wailea, Makena and Kahakuloa, Kahalehoe said.
Park would not normally go toward water, but coastline searches have not been done because of rough conditions, Kahalehoe said.
Volunteers also have been visiting homeless shelters and encampments around the island.
Kahalehoe said her aunty does not have any money or identification with her; her handbag was found at home. Park does take medication for high blood pressure.
Park does not hear well but reads lips. When speaking to her, face her, Kahalehoe said.
"She is always smiling. She is upbeat," said Kahalehoe, who expressed that the ordeal has been tough emotionally, mentally and physically.
Her aunty can be frank and outspoken, as well.
"(If) she doesn't like you, she is going to tell you," Kahalehoe said.
There have been times that Park felt she needed to get to work, even though she is retired, said Kahalehoe. Park used to work for the county Parks and Recreation Department in Hana.
Park, who loves to dance hula, lived alone. Family members frequently checked on her and cooked her meals. She also went to an adult day care program several times a week.
Her family lives all around her, Kahalehoe said.
"They see her every day," she said.
* Melissa Tanji can be reached at mtanji@mauinews.com.